Another Amazing Street Food Tour…
In Naples!
---
I've talked about some of the best street food in Sicily, and raved about my tour through Florence already. So it was only natural that upon a visit to Naples I reconnected with Marco, owner of Streaty Food Tours, for another fantastic day of walking, learning, and, most importantly, tasting some of the best food in the city. 
Honestly, I probably wrote and deleted 15 different analogies for the food in Naples…but it was an episode of a classic tv drama, serving as background noise, that gave me an "aha!" moment. 
In every movie and every tv show ever made in the history of the world, Italians are always stereotyped on screen in certain ways – even though most of the time the stereotype is not the reality, haha. One that is constant, though, is of the Italian restaurant (always with a red & white checkered table cloth for some reason) with a smorgasbord of super filling pastas, creamy sauces, various fried offerings (always mozzarella sticks which, fun fact, you won't commonly – if ever – see on an Italian menu in Italy!) and well…just generally the South Beach Diet's worst enemy. I think these scripted stereotypes originated once upon a time from someone visiting Naples.
It is the birthplace of the modern pizza, afterall. And mozzarella (see how it's all tied together?! haha) is actually produced in Campania, the region where Naples is located. Typical Napoletano food is vast, but what really stands out to me is their STREET food – it absolutely is the land of temptation for those with a sweet tooth or a love of all things fried golden crispy.
---
Use code "kacierose" for 5% off your Streaty Food Tour!
---
A bit about Streaty Food Tours…
If you have followed this blog for a while then you know how much I love Streaty Food Tours. And if you know anything about me, then you also know I don't give out my "stamp of approval" to just anyone. I've been fortunate enough to experience several different types of food tours, in several different cities throughout this amazing country, but when anyone asks me for highlights or suggestions I always come back to my friend Marco and his Streaty Food Tours.
Streaty approaches each tour as not just an opportunity for people to try some great food, but to explore, educate and just generally immerse customers in the culture of the region. They make an effort to connect with each person and really go out of their way to make people feel comfortable, which is huge when many tourists can be intimidated by a new environment, especially when they have never been to Italy or face a language barrier. 
At the end of the day, its about trust, right? When you sign up for a tour like this you want to know that your safety is important to your guides, to know that your really are being shown great and unique places and not just an Italian version of Papa John's or something. 
Hey–don't laugh…there are actually food tours that strategically end (or even sometimes begin) a tour by feeding their groups generic pizza, obviously a food that everyone loves, to insure positive reviews & profitability. 
That's more reason to love Streaty, though. A walking tour, they strive to educate. They also encourage people to try food outside of their comfort zone–which, if we are being honest with each other–is the whole point of a food tour, right?
Oh…and finally….Street food is simultaneously the best introduction to a region's culture & cuisine–and some of the best damn tasting food on the planet!
Please note: This post contains affiliate links. Purchases made after clicking/following a link result in Kacie Rose Travel receiving a small commission. I only promote products/services that I've used & love myself. Thanks for supporting my blog 🙂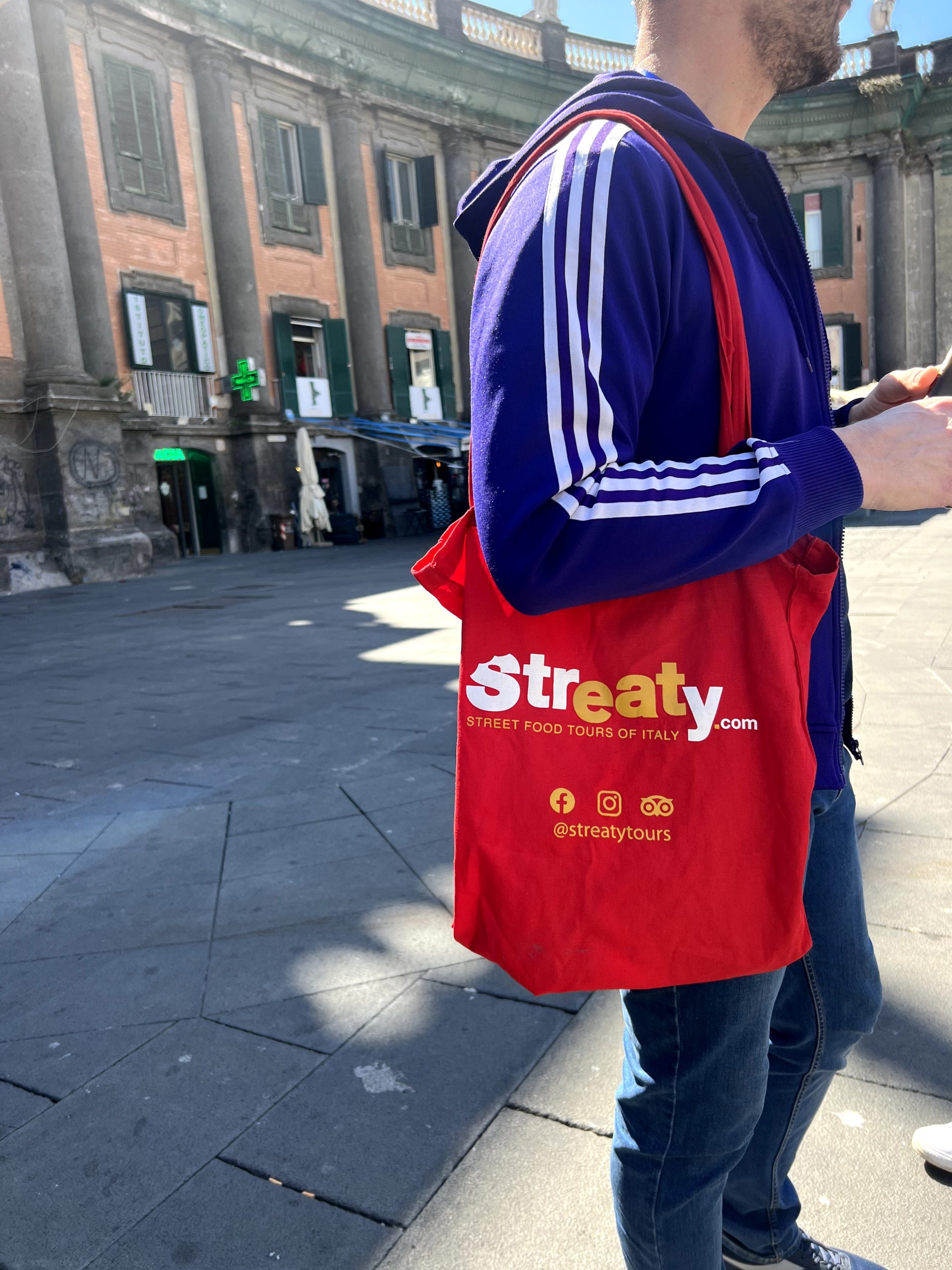 ---
A Bit About Naples…
Some Quick-Hitter Facts & Background Info about Naples:
–Naples is the 3rd largest city in Italy, after Rome and Milan. Its population is a hair under 1 million.
–It is one of the oldest continuously inhabited cities/regions in the entire world. Its ancestry can be traced back all the way to the first millennium B.C., founded by the Greeks.
–Was the capital of the Kingdom of Naples (1282-1816) and the Kingdom of Two Sicilies until the unification of Italy in 1861. 
–The port of Naples has played an influential part in helping the city become an integral part of the Italian economy, and it is the European home of NATO's Allied Joint Force Command. 
–The city centre is steeped in history, and is a UNESCO World Heritage Site. Highlights for tourists nearby include the Palace of Caserta, the ruins of Pompeii and Herculaneum, and Mount Vesuvius.
–The term neopolitan means "Pertaining to Naples". Of course, most people think of ice cream when they hear the word–but there's actually not a lot of definitive proof the concept of "3 flavors in 1" was borne in Naples. Early Italian immigrants to the States brought a general expertise in frozen desserts and would mold three flavors together to match the Italian flag…it wasn't until later in the early 20th century that the commonly associated chocolate/vanilla/strawberry became famous. 
–As I mentioned, Naples is known as the birthplace of pizza. During the Kingdom of Naples it grew in popularity in part due to the disproportionate amount of poor people in the city at that time. It was known as "the food of the poor", in fact. The King Ferdinand IV, of the Kingdom of Two Sicilies, helped bring it to the masses, including the elite. 
–Spaghetti is also closely associated with Naples. But as a coastal city its seafood has a reputation all its own. Dishes like impepata di cozze (peppered mussels) and baccalà alla napoletana (salt cod) are Naples staples (sorry, I really wanted to fit in a Naples-staples combo somewhere!)
When Italy was unified in 1861 the country saw much of its wealth in the south, especially the regions inside the former Kingdom of Naples, move north into Milan. With much of the population already "lower middle class" the city's economy was decidedly depressed, impacting the majority of its citizens.
With the region becoming more and more poor, a lot of the amazing cuisine we now laud Naples for creating/inspiring was borne. In addition to carbohydrate-rich pizza & pasta, fried food became increasingly popular, as it was cheaper to prepare and cultivate than "fresh" food and the fatty oils gave people a sense of "feeling full" much faster (the oils expand in digestion). 
All of that is part of why Southern Italy has kind of an unfortunate reputation compared to the "Rich & Well-off" North. And I do mean its unfortunate…in some ways it reminds me of New York City, actually. Yeah, its maybe a little gritty, and its definitely chaotic…but the people are thus just real, totally vibrant and energetic and extremely hospitable to tourists & newcomers alike–just like in NYC, all you have to do is ask! (Also like NYC, I feel like the people of Naples have this stupid rep of smugness to outsiders, but really its just a city of busy people living their best life!)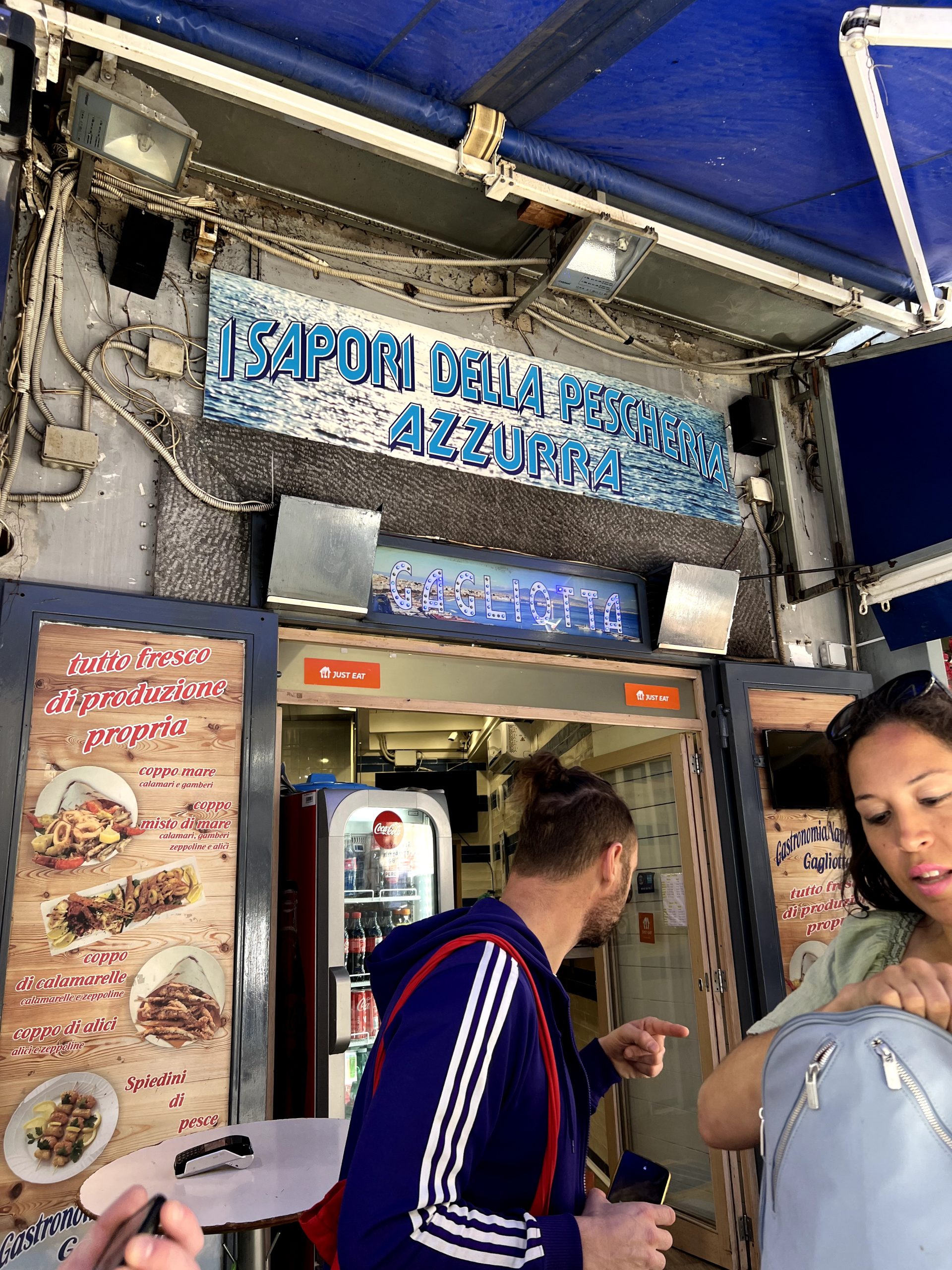 ---
The Food…
Cuoppo: A cone of fried things, usually seafood. There's some land options but from the sea is the way to go, I feel. We tried this at the seafood market in the city, where fresh fish is caught and sold daily. It's a pretty crazy and hectic environment, but that's kind of what makes street food perfect, right?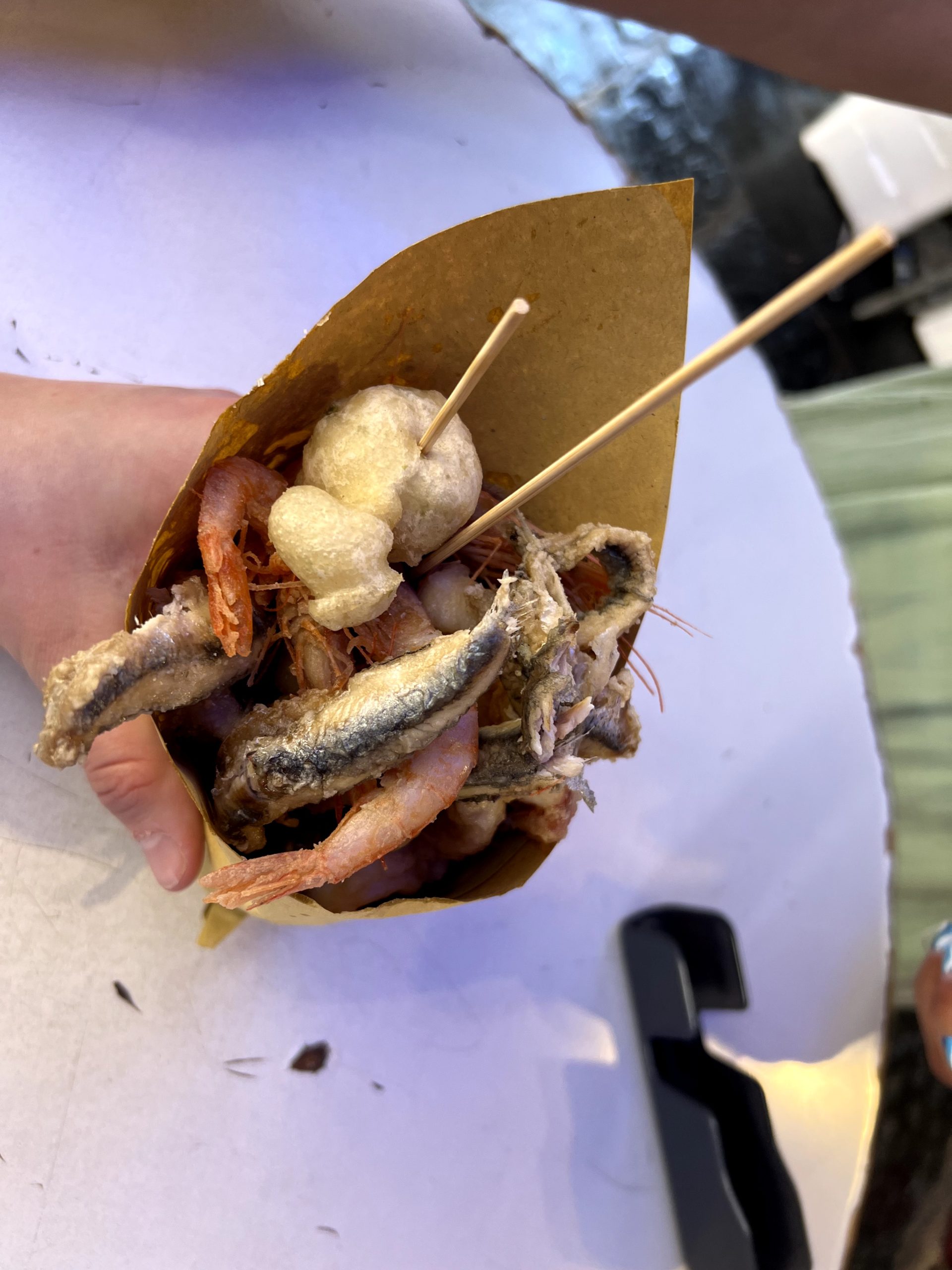 Bufala Mozzarella: Mozzarella made from Buffalo Milk. Creamy and delicious, and a little smoky almost? It was like no mozzarella I have ever tried before! 
Trippa: Just to be blunt…it's stomach and intestines from various animals. Throughout Italy you can find typical dishes that use alll parts of the animal, but in Southern Italy you can find this ALOT (for the same reasons that gave us pizza!). To be honest, you might see some initially jarring types of dishes & ingredients in Naples restaurants. This wasn't my personal favorite item of the day, lol.
Lets just say I don't know if Trippa was the dish that got Naples restaurants the most Michelin stars of any Italian city.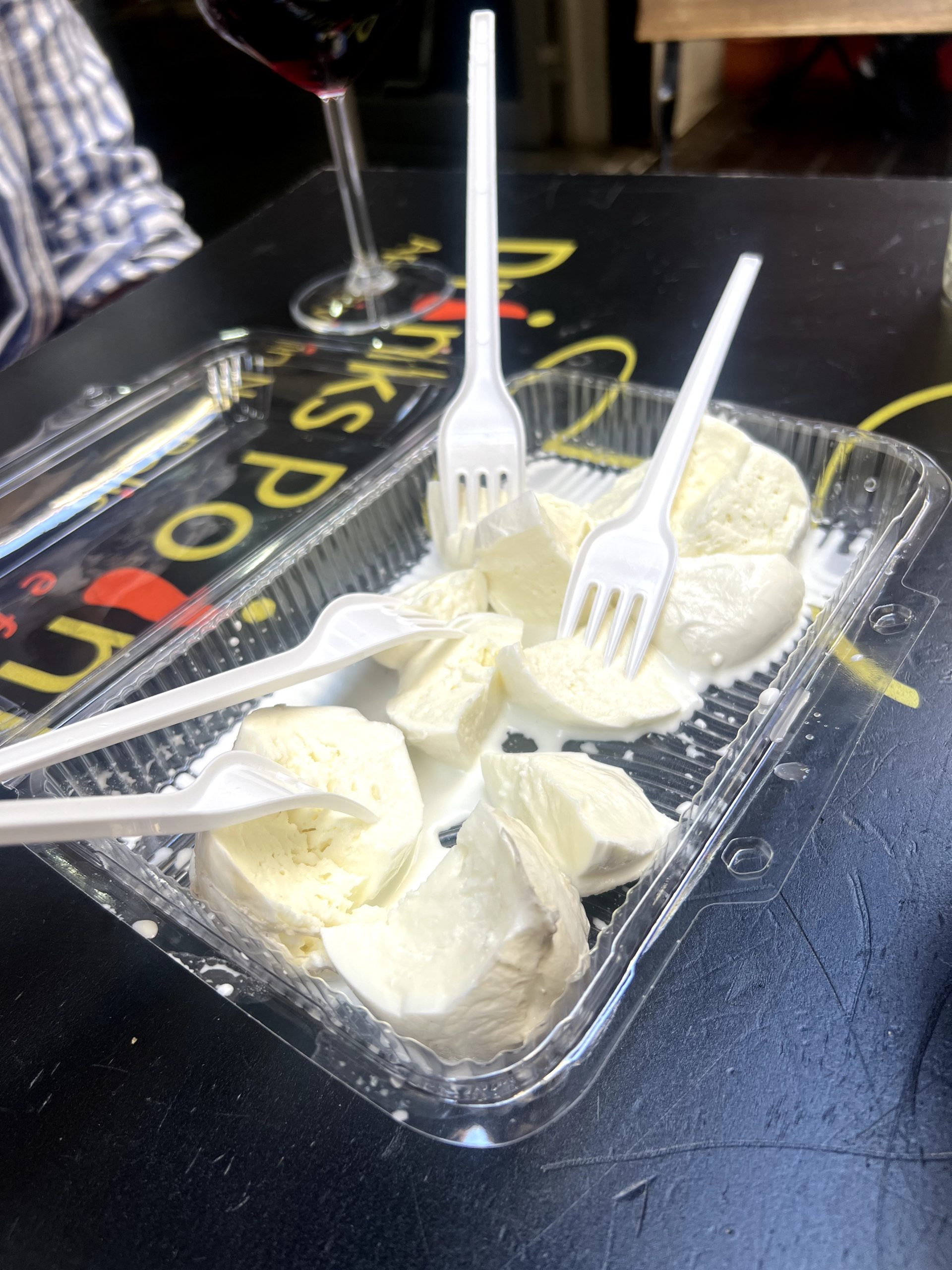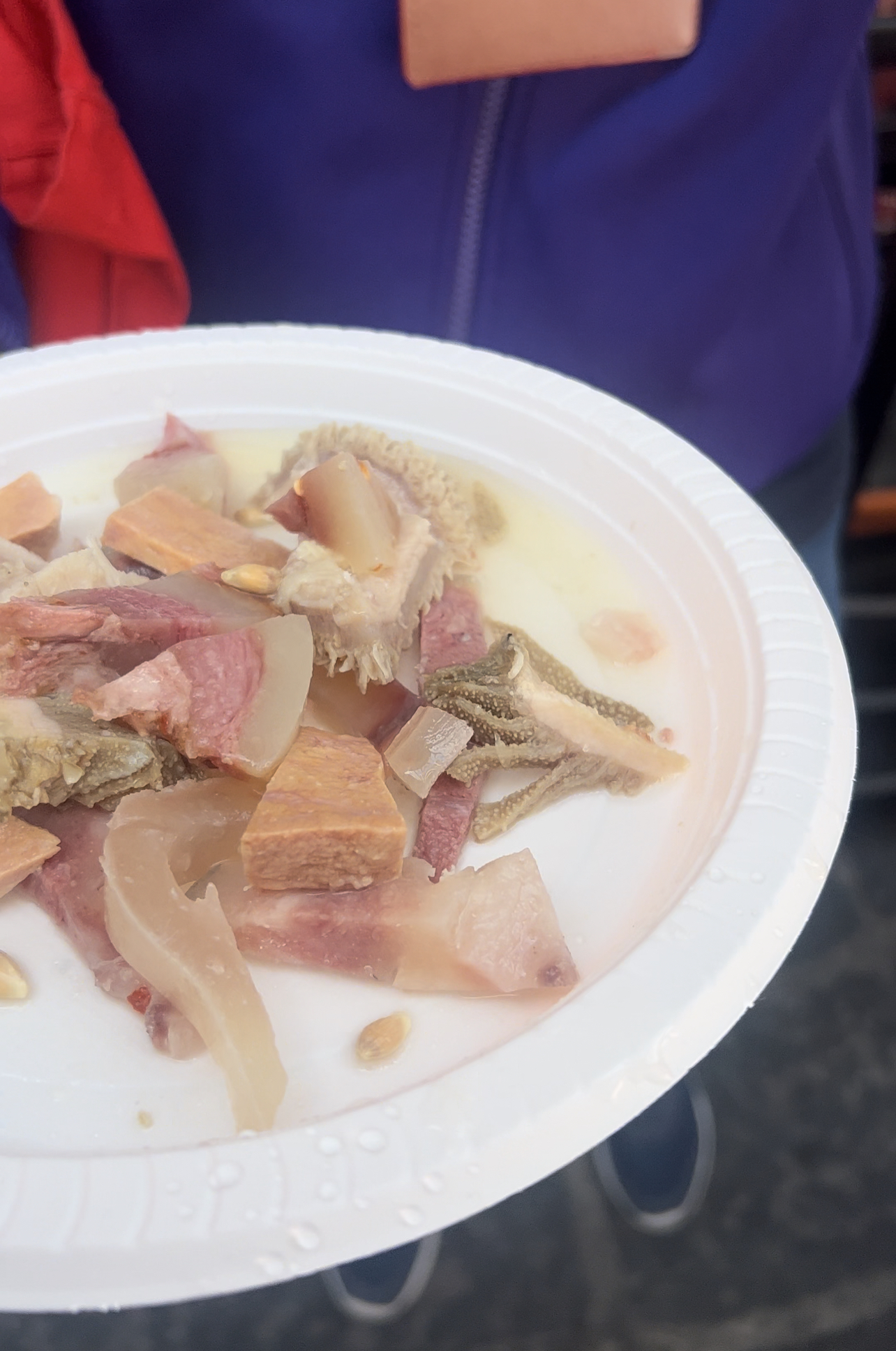 Pizza fritta: Fried Pizza. OMG. Yes, its as amazing as it sounds. Filled with ricotta, mozzarella, tomato, pork fat and pepper flakes. 2 Thumbs Up!
Taralli: A super crunchy breadstick. This particular ones had almonds, which really enhanced the overall flavor. (Additional note…went oh-so-well with a Peroni, a famous Italian beer also available in the States!)
Snowflake: A desert pastry filled with cream and topped with powder sugar. Honestly after the fried pizza and taralli, I didn't think I could eat much more, and at this point I thought I'd burst if I finished it all. But I did…and I didn't burst. And it was well worth it!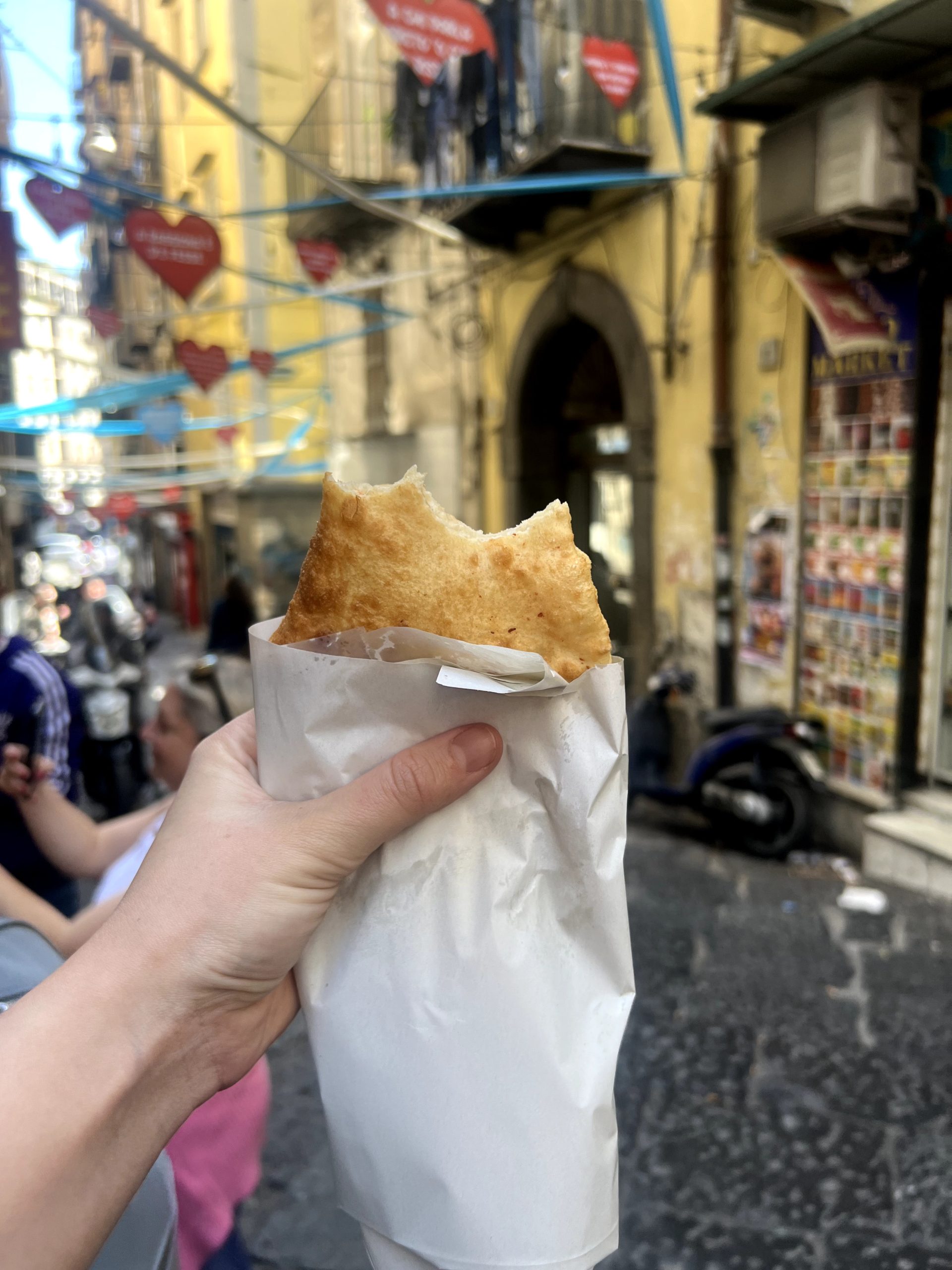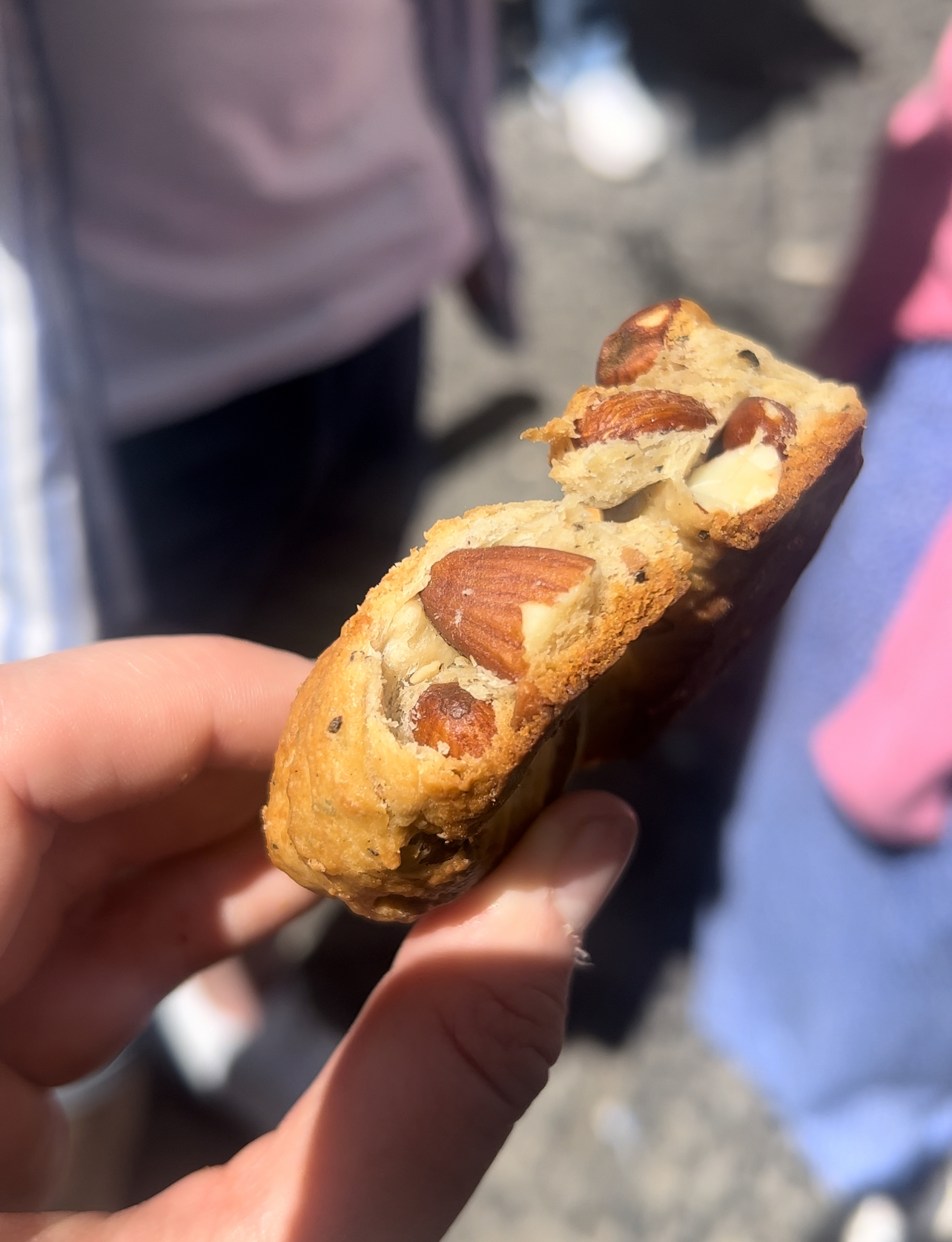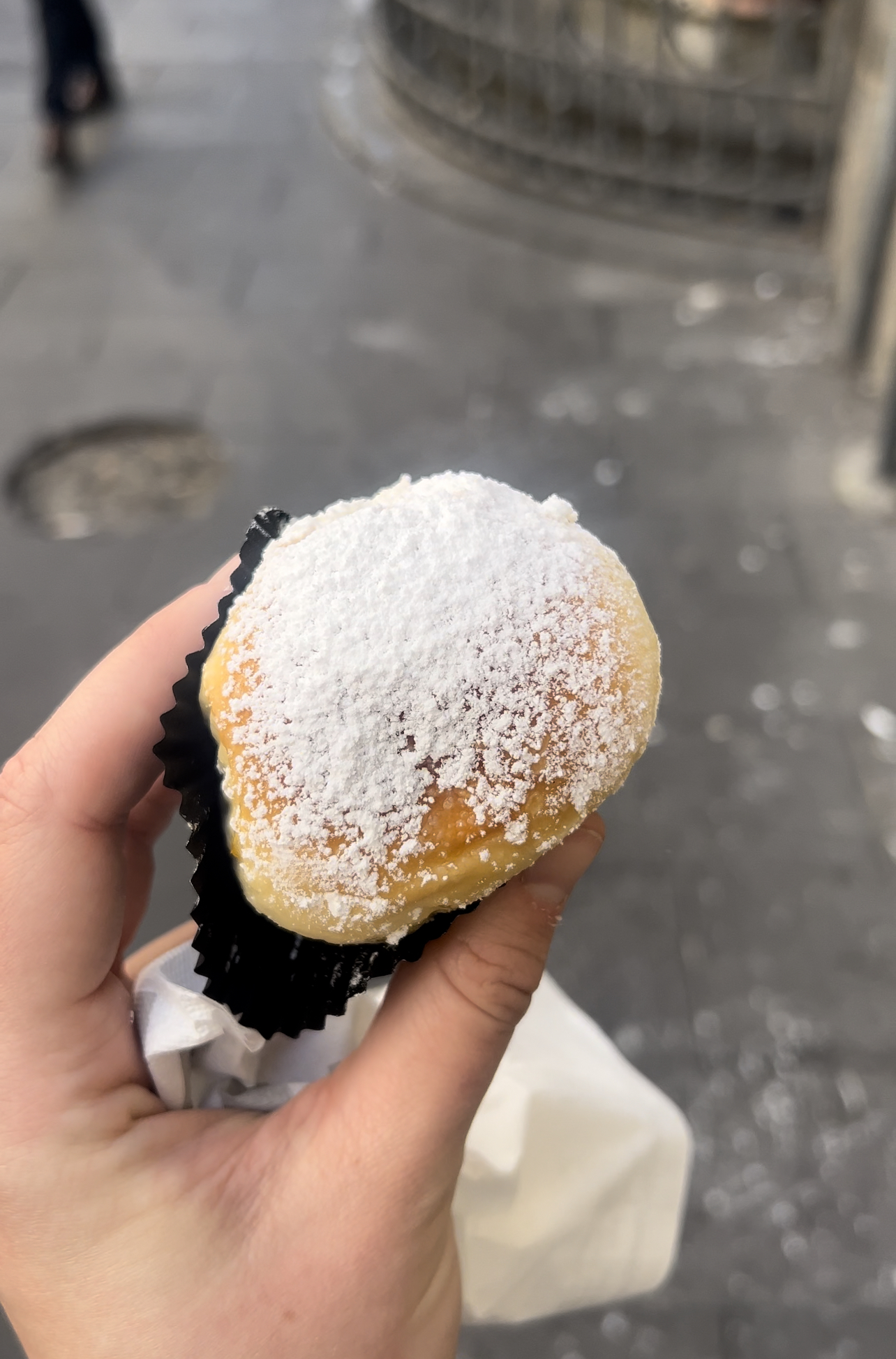 ---
In conclusion, my dear readers…
All in all, if you're traveling to Naples, Sicily, or Venice, I HIGHLY recommend checking out Streaty Food Tours. They are simply awesome and provide such an awesome experience for tourists to not only see and enjoy the city, but to fully immerse themselves in the culture. And because I cannot recommend them enough, Marco gave me a discount code to share with all of you!
Happy eating, friends!
Related Articles
Newsletter
Related Articles