How to…
Spend a day in Florence
for under 25 Euro
---
When many people think "Wow, I'd love to go to Europe!", their very next thought is often "…but damn it must be expensive!" I must admit, I was one of those people too.  It's a shame, because this fear costs people a whole lot more — the chance to travel and experience the world, to be exposed to cultures & locales far removed from their status quo.
Let's just say that dirty little word out-loud together — Tourist. As a traveler, especially abroad, it almost seems to invoke random fees & inflate costs with every step you take. There is a reason "tourism" is its own industry, afterall — entire economies are built & supported by it. But that doesn't mean you have to take out a second mortgage just to sail across the Atlantic. I'm here to tell you that you can have a blast on your trip — and not file bankruptcy afterwords.
In this post I want to tell you a bit about Florence, one of Italy's most beautiful cities. And, of course, how you can spend a day exploring this amazing city for the cost of your monthly Amazon Prime membership (or maybe Disney+. Yeah lets go with that!).   
As someone who began living in New York City as a typical college student, careful (sometimes even extreme) budgeting became second nature, continuing as I embarked on a post-graduation solo trip through Europe. That first trip through Europe by myself taught me so much. One of the most important things I learned? You can enjoy a new city without it costing your first-born child. That, combined with what I've experienced since moving abroad, lets me confidently say that Florence is no exception.
As birthplace of the Renaissance and the center of art & culture in Italy, there is a combination of unmatched beauty & history in Florence. Without further ado, here is a few ways to enjoy this magnificent city — and do so for under 25 euro! 
---
Breakfast:
Coffee and pastry at a local bar or café
---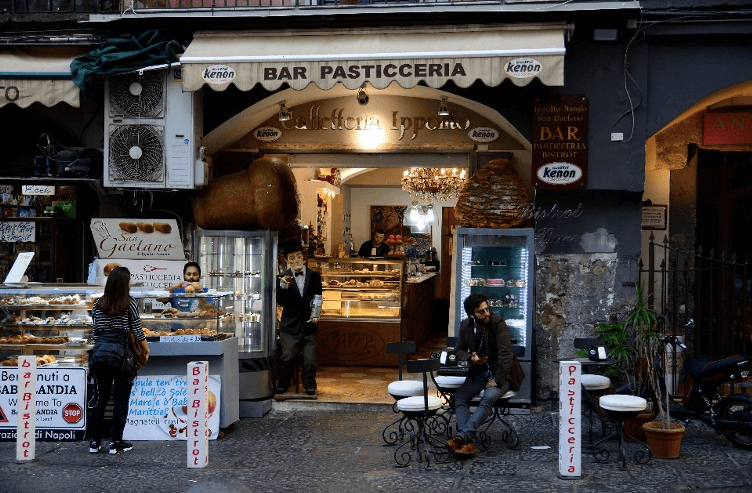 Coming from NYC, one of the best parts of coming to Italy for the first time was finding out that the same delicious croissant that would cost you $4 in NYC costs only around 1.10€-1.50€ in Italy – and it's like, 10x better. Paired with the discovery that Italian coffee is incredibly cheap (an espresso typically costs 1€-1.10€ while a cappuccino is like, 1.30€-1.80€), you can start off your day with a very Italian breakfast like a true local. Just be aware – if you sit down at a café or bar where there is table service, the prices are different – a coffee that costs you 1€ to drink standing at the bar can easily costs 4€-5€ sitting down. My suggestion again is to do as the Italians do: drink your coffee and eat your pastry while standing at the bar.
---
Rick Steves Audio Guide Europe App
---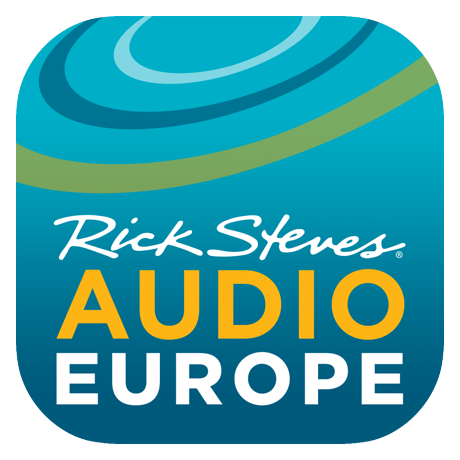 If you haven't heard of Rick Steves (or even if you have), you need to pull out your phone this second and download his FREE app, "Rick Steves Audio Guide Europe". I'll wait.
Did you download it? Good.
Not only is his app completely and totally FREE, but he covers dozens of travel destinations all over the world – including Florence. I have used his app in almost every city I've visited, due to the accessibility and informative things you can find on it.
Under the Florence section, you can put in your headphones and listen to the free Florence Walking Tour he offers, filled with interesting historical facts that make you appreciate the beautiful sculptures and buildings even more than just viewing them and not knowing what you're actually looking at. Make sure to pay close attention and listen to the full tour without skipping through though – because the tour moves fluidly, if you skip forward through any part, you'll be completely lost as to where or what you're supposed to be looking at.
---
Visit the famous markets, Mercato Centrale or Mercato di Sant'Ambrogio
---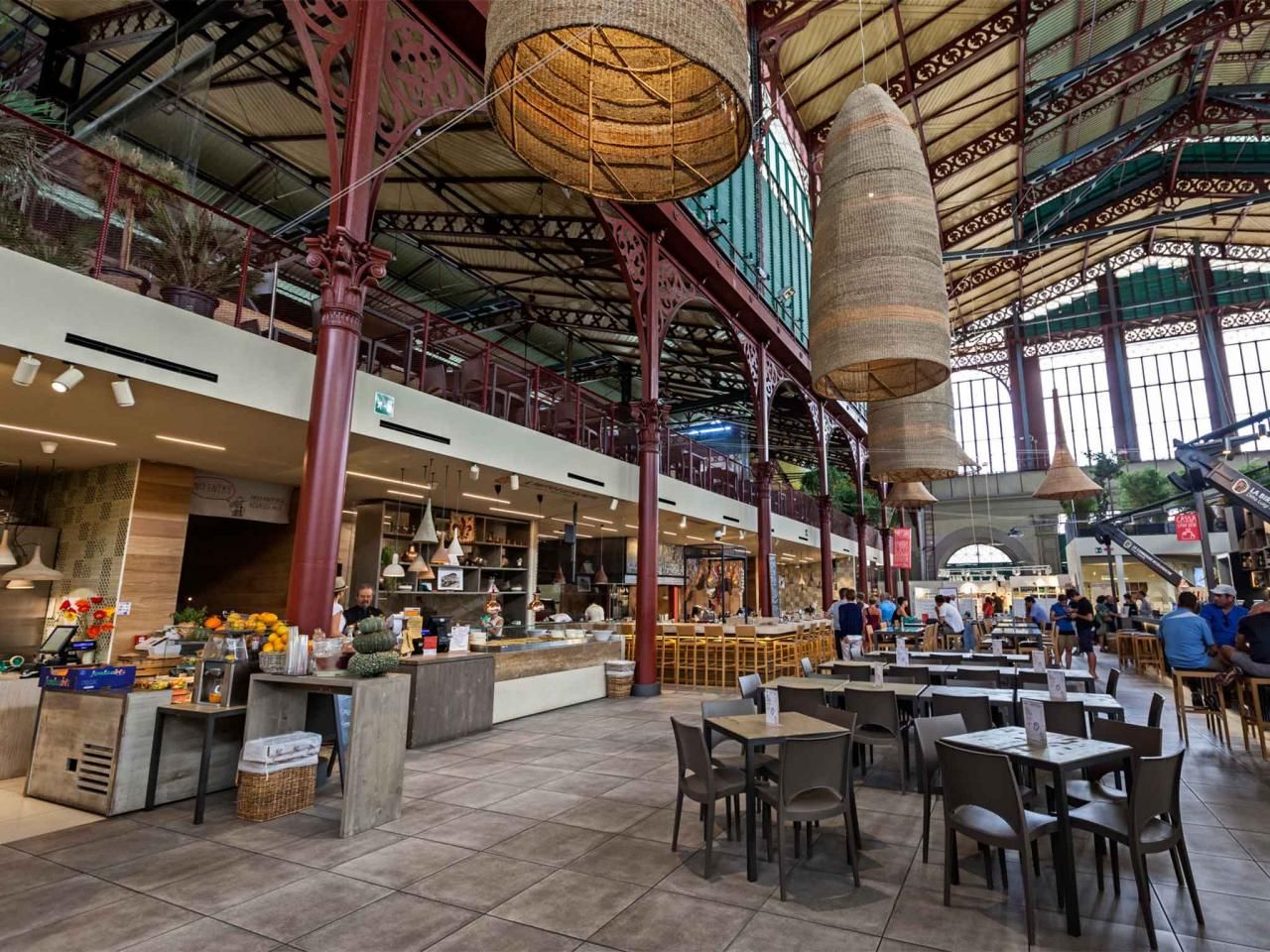 Arguably the most famous Market in Florence, Mercato Centrale is the ultimate hub in Florence to buy, sample, and eat fresh produce by local artisians. A two-level food market set in the famous San Lorenzo market, you can find, sample, and eat produce from dozens of food & specialty shops. They sell  a bit of everything, such as meat, cheese, pasta, pizza, oil, fish, fruits and vegetables.
I highly recommend visiting Mercato Centrale, if only for the fact that it is quite the spectacle to walk around and view  different types of flavors and produce essential to Tuscan and Florentine cuisine. AND if you see something that you'd like to take back with you home, just ask the vendor – they are very knowledgeable about what can be transported across international borders. They will even vacuum seal your goods to ensure safe transport — and to keep them nice and tasty for when you get home!  
Mercato di Sant'Ambrogio is lesser known (and less frequented) by tourists due to its location on the edge of the city center, making it a more common and popular stop for locals compared to Mercato Centrale. In the outdoor market you can find dozens of vendors selling everything you could imagine – fresh fruits and veggies, vintage clothing, plants, household items, you name it — while in the indoor market you can find stands selling meat, fish, and cheese. The market is open only from 7am to 2pm every day, so make sure you plan accordingly! 
---
---
---
View famous art replicas at Palazzo Vecchio
---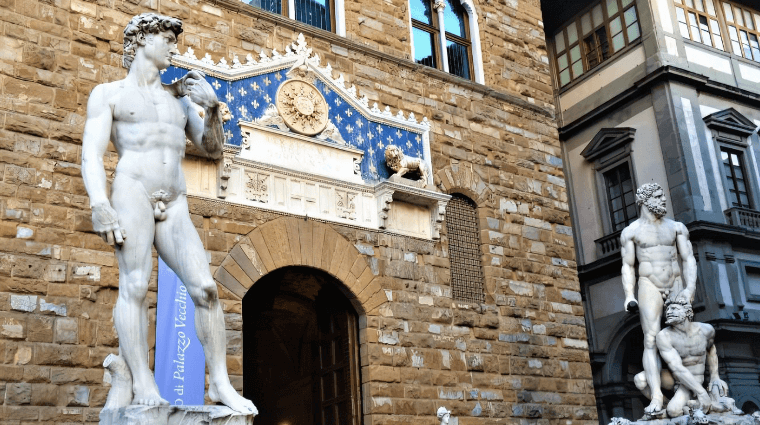 One of the three main squares in the city center, Palazzo Vecchio  is the jackpot for free outdoor art in Florence, where you can view both originals and replicas of some of the most famous art sculptures in history, such as Michelangelo's David and Cellini's Perseus.
(And guess what! Rick Steves has a free audio guide for this too 😉 )
**Tip: Right behind the big water fountain there is a free water-bottle refill station! The water is very clean, so carry a water bottle around in your bag to fill it up here throughout the day.
---
Lunch:
grab a panino at Pino's Sandwiches
---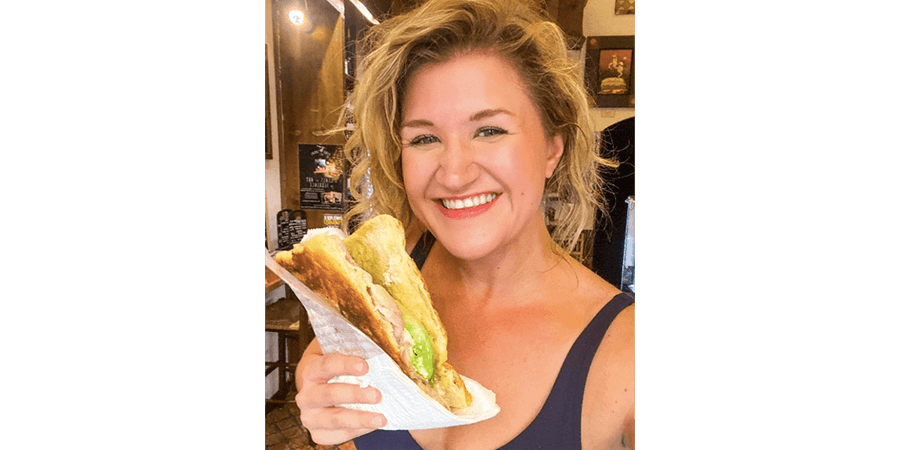 Ok ok ok – if you've followed me for a bit, you know I'm a little bit biased…but I truly do think Pino's serves up some of the best panini in the Florence city center. The pricing is very affordable, and there is such a variety of options that it makes for the perfect, family friendly, satisfy-everyone quick lunch stop. Besides the portions being absolutely massive (for real though, the panini are bigger than my head), they also have vegetarian options AND gluten-free bread, so no matter your dietary restriction you can find something to eat here. And if you're not wanting a panino, don't fret – they also have an entire "gastronomia" section, which is essentially like a deli counter for hot and cold pre-prepared foods.
Beyond that however, Pino and his family are some of the most wonderful and kind people I've ever met. Pino is known as the "study-abroad dad" in Florence, so inside the shop you can find dozens of university banners given to Pino from grateful past and present study-abroad students as well as pictures from those students that have made trips back to see Pino after 10, 15, or 20 years. It's not hard to see why he is so popular — Pino has been known to help study-abroad students fill out confusing government documents, or navigate Italian bureaucracy, but most importantly, he simply genuinely offers a space for the homesick to feel a bit closer to home when they need it. 
Basically, go to Pino's. Just do it, alright?
Pino's Sandwiches: Via Giuseppe Verdi, 36R
---
Gelato at the oldest gelato shop in Florence:
Vivoli Gelato
---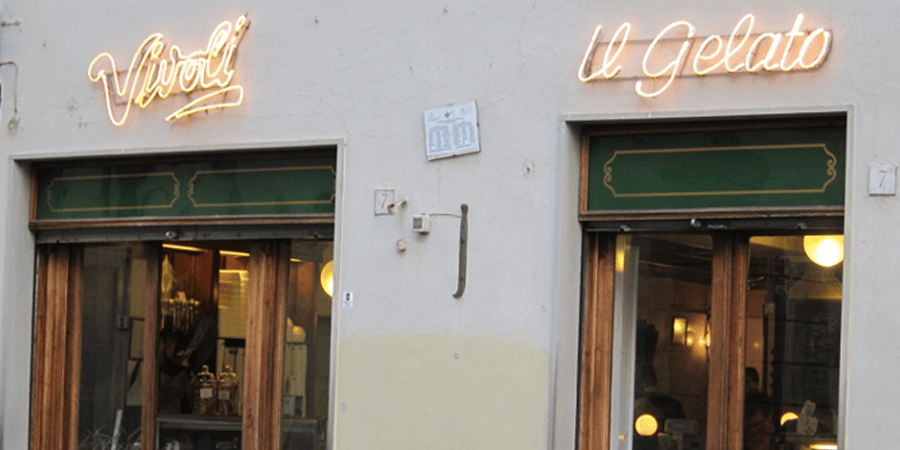 You might need to first walk off that amazing Pino's lunch, but no meal is complete in Italy without a cup of delicious, fresh gelato – and one of my favorite places to do it is at the oldest gelato shop in all of Florence, Vivoli Gelato.
Yep, you heard that right – the OLDEST gelato shop in all of Florence.
Vivoli il Gelato opened up in 1930 in the historic center of Florence, where it still stands today. Beyond their amazingly fresh gelato and seasonal flavors, something that really makes Vivoli special is that the shop is completely family-run and operated, so you can likely find different generations of the family working inside the shop each day. If you've heard the name before but can't figure out where you know it from, I gotchu – not only has the shop been featured in many different food travel shows, they also have a shop in Epcot at Disney World!
Vivoli Gelato: Via Isola delle Stinche, 7R
---
View gold shops on the Ponte Vecchio bridge
---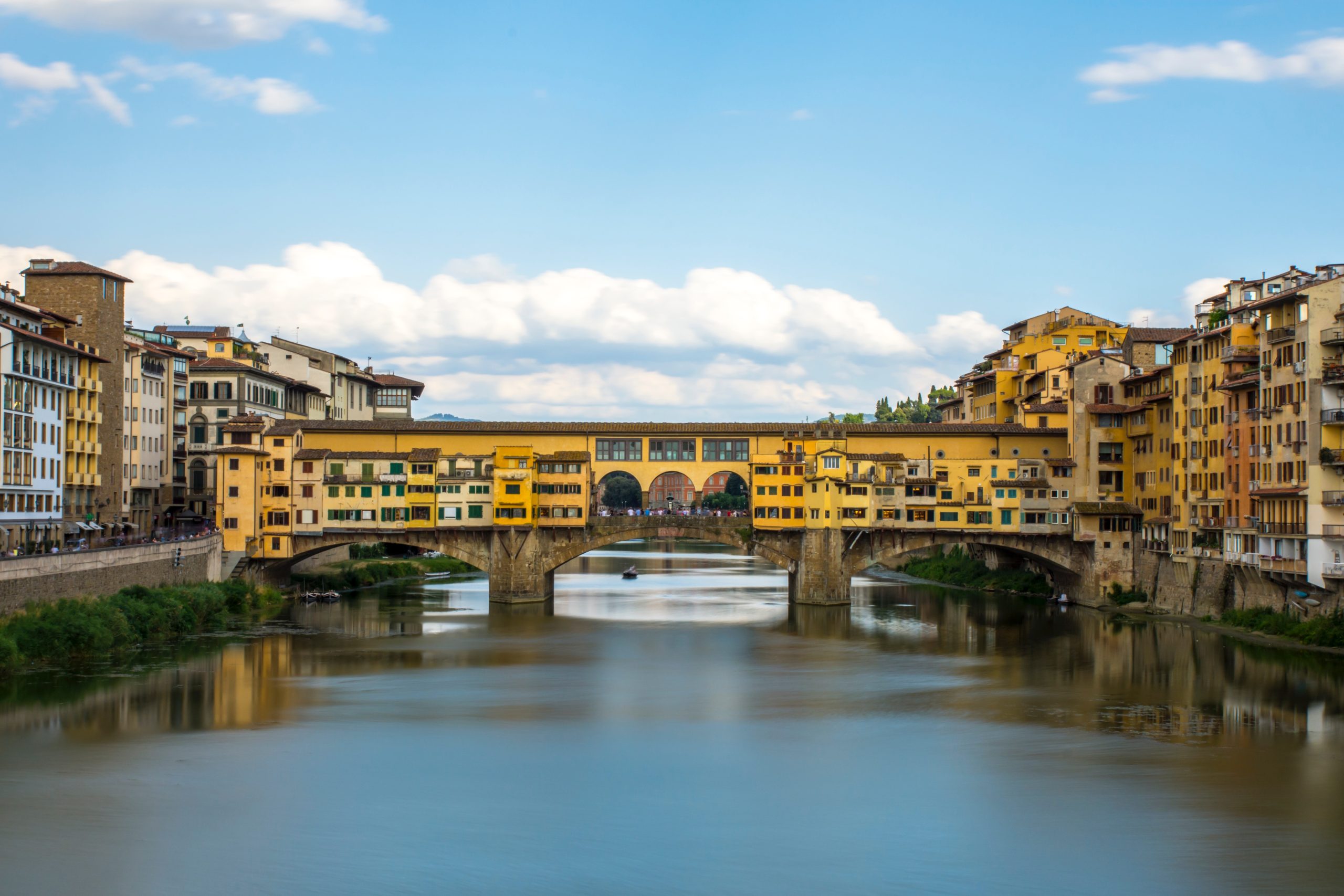 The Ponte Vecchio Bridge is the oldest and most famous bridge in Florence, and the only bridge across the Arno River in Florence that survived World War ll. The sight of it is absolutely breathtaking and (in my mind) fulfills the perfect history-meets-present image of Italy one would search for. 
Back during the Medici rule, the Ponte Vecchio was where the butcher shops were located – and as you can probably imagine, it was…pretty gross. The stench was horrible and the river was tainted from all the animal waste being dumped in the river. Yuck. Makes me feel better about the Hudson River, I suppose.
Interested in making Florence wealthier (and sick of the god awful smell), Ferdinand Medici passed a law in the late 16th century that all the shops on the Ponte Vecchio bridge must be gold or jewelry shops – and that still holds true to this day. Viewing the incredible craftsmanship of these goldsmiths and jewelers, combined with the fascinating history, makes this a memorable stop to visit.
[There's also a secret tunnel running above the Ponte Vecchio called the 'Vasari Corridor' that was used by the Medici family back in the day to travel – if you look closely, you can see part of the tunnel popping out around the stone tower.]
On another note – as I mentioned above, the Ponte Vecchio bridge is the only bridge in Florence that survived World War ll. As they were prone to do, during the Nazi retreat from Florence they destroyed every piece of infrastructure they could. There's a rumor that Hitler saw the bridge and thought it was too beautiful to destroy, but that's not true – in fact, the saving of the bridge comes down to one person, a Nazi official named Gerhard Wolf. You can read more about this story here.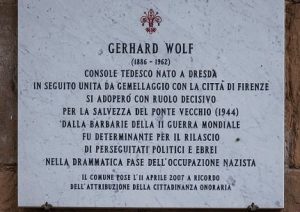 Gerhard Wolf (1886–1962) German consul, born at Dresden—subsequently twinned with the city of Florence— played a decisive role in the salvation of the Ponte Vecchio (1944) from the barbarism of the Second World War and was instrumental in rescuing political prisoners and Jews from persecution at the height of the Nazi occupation. The commune places this plaque on 11 April 2007 in memory of the granting of honorary citizenship."  
---
Dinner:
Local street food at Sergio Pollini OR GustaPizza
---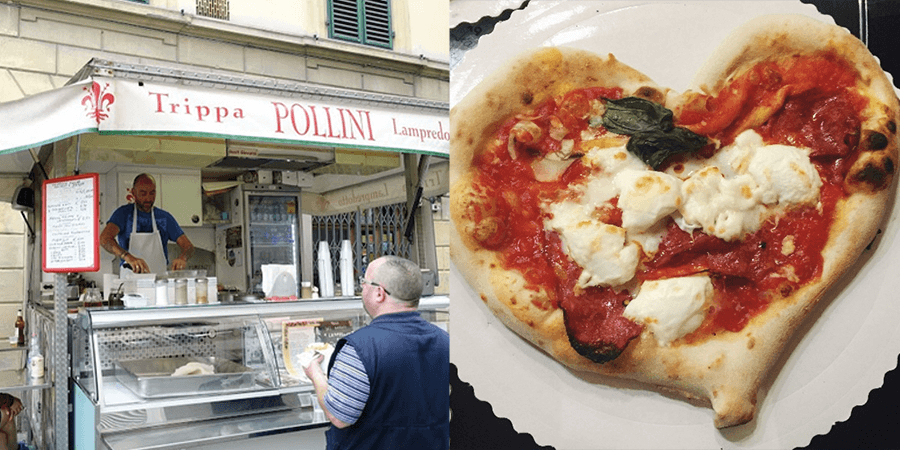 If you're feeling up for the challenge, there's no better way to fully immerse yourself in Florentine culture than heading on over to Sergio Pollini Lampredotto and trying a panino containing the typical Florentine street foods, "lampredotto" and "trippa", which is…cow stomach.
I know the look you just made. I swear I'm not crazy. Okay, I'm maybe a little crazy, I mean, I am a woman afterall. That surprise-slash-disgusted look upon your face is completely normal. But don't worry – Sergio Pollini is arguably the most famous lampredotto street food stand in the city center so they know what they're doing. I promise!
If you prefer something a little less daring, head over to Gustapizza across the river in Santo Spirito. They offer a range of pizzas at all different price points, but a classic Margherita pizza will only cost you 6€. You can even ask for it to be made in the shape of a heart, which doesn't change the flavor at all but is very instagrammable 😉
(and, in case you didn't know, Florence just happens to be one of the most romantic cities in the world, so that heart-shaped pie sort of fits perfectly!)
Sergio Pollini Lampredotto: Via dei Macci, 126
GustaPizza: Via Maggio, 46r
---
Walk up to Piazzale Michelangelo and grab a drink
---
After dinner, do what any sane person would do and take a nice, steep walk uphill to Piazzale Michelangelo.
I know, it doesn't sound the most appealing, but I promise you, it's worth it – Piazzale Michelangelo has the best view of Florence, and it truly is magical. Opt to take the walk through the "Giardino delle Rose" (The Rose Garden) to get up to Piazzale Michelangelo. You can stop and rest if needed in a beautiful garden surrounded by roses. Not that Kacie Rose would be biased or anything, of course. 
At the top there are plenty of food and drink stands where you can buy a beverage for relatively cheap — especially considering the view from one of Florence's most popular attractions.
---
Watch the sunset over the red roofs of Florence
---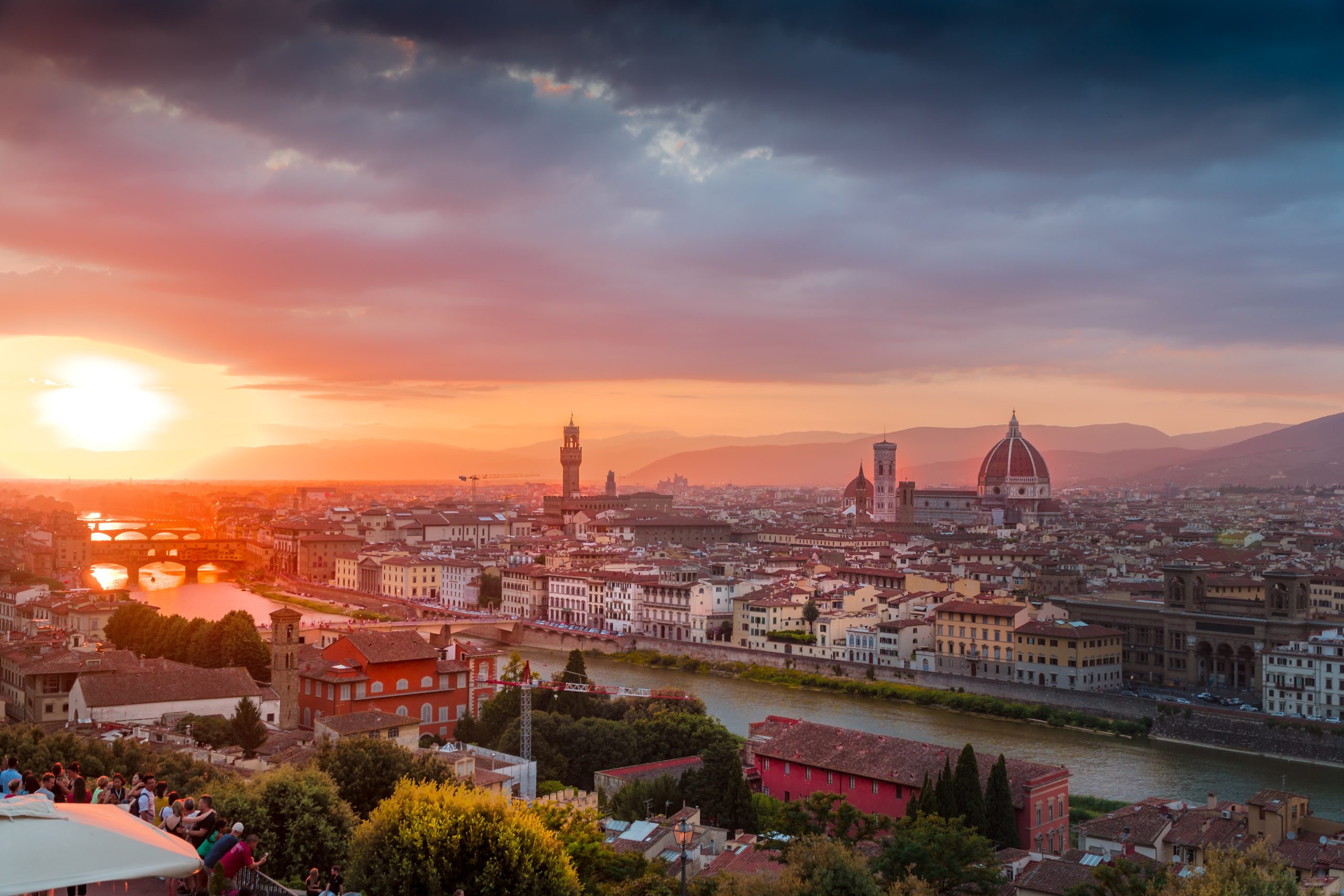 No further words needed 😉
---
Total for the day:
Well, I'm beat! We fit a whole lot into this spectacular day in Florence…and we did it without having to beg friends for a little Venmo loan too! The most important thing to remember is that if you want to see the world, do it – the cost of visiting places like Florence pales in comparison to the cost of regret.
Happy traveling! ❤️
–Kacie Rose
Related Articles
CONTINUE READING
Newsletter
Related Articles