My Puglia Road Trip [Part IV] — Bari
Over So Soon?!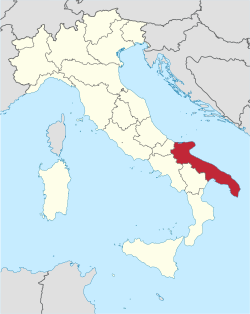 The region of Puglia (or Apulia), Italy
We embarked on a 9-day road trip throughout one of the most scenic–and criminally underrated & unheralded–regions of Italy. A coastal region in the southeast "heel" of the country, Puglia (also known as Apulia) remains a hidden gem of sorts as tourists flock to the more well-known cities. After meeting in Bari, our itinerary would take us to Polignano a Mare, Ostuni, Alberbello, Matera and finish with a couple of nights back in Bari.
---
As we drove back to where we started, the capital city of Bari, the realization that our epic road trip was nearing its end started to dawn on me.
Isn't it kinda crazy how you can spend a week on a vacation somewhere, and even with some days feeling like they last forever (as you get up early and stay up late, somehow taking in both the sunrise and sunset lol), towards the end of the trip you inevitably think: "Wow, that week just flew by!"
Bari is an interesting city. To be honest, I have to admit that I kinda had preconceived notions about it, I just figured it was a port city like any other along this stretch of coast. Its old-world architecture, ample marinas playing host to schooners and sailboats and yachts, and idyllic weather combine to almost invite these notions…I mean, if you judged the "book by its cover" I think it'd probably get a one line review of "Peaceful, tranquil, boring."
Of course, that's why Meredith and I made it a point to not just let Bari be our roadtrip's pushpin starting point on a map–instead ensuring this university and port city of a quarter-million people (nearly 1.5 million across the metropolitan area) received the time and attention it deserves. 
Bari is almost a split personality, one young and vibrant, one older and esteemed. The latter can be encapsulated by Bari Vecchia, the historic old town, a city center filled with countless trattorias, piazzas and shops. This invokes, for Americans like me, a sort of downtown "Main Street, USA" vibe…except it's backdrop is picturesque lighthouses overlooking the Adriatic Sea and too many museums to count.
When you combine this sort of dual-personality with that idyllic weather, along with the sea dotted with boats large and small, it really seriously reminds me of Florida. I mean, palm trees? Check. Sunshine and cool breeze? Check. Seems boring yet peaceful when you first arrive? Yep. Perfect place for retirees…okay you get my point.
But even further than that, the way Bari can almost separate its identities, like with that downtown, historic setting of Bari Vecchia on one hand, and perhaps the nightlife near the Norman-Hohenstaufen Castle on the other…it feels like Miami, honestly.
So…the end is near. But not…quite….yet. 
We girls had 2 days left on this incredible journey. And as we entered the city, equal parts exhausted and excited, the anticipation that comes from getting to explore a new place for the first time fueled us (Well, that and caffeine, of course). No time to waste…Bari awaited us.
---
Bari
---
---
The Food. OMG…The Food.
---
I mentioned Bari Vecchia, and the tons of little cafes, shops, trattorrias, etc etc. 
Well, by now you all know how I love me a Street Food Tour. 
You can see where this is going. 
We did this tour, and it was amazing. Our guide was knowledgable, and the food….well, let me just reiterate the OMG…THE FOOD headline now. 
[Side Note: AirBnB has really become an irreplaceable resource, especially for international travelers/vacationers. Obviously many people (like my brother) associate them with just "renting someone's bedroom" (his words), but damn, they've really expanded their portfolio of options as the company has exploded worldwide. You can not only find some great accommodations, but some of the best walking and street food tours I've taken have come from using the site.]
---
bari6food

bari7food

bari8food

bari9food

bari10food

bri11street

bari12streetMAIB
---
---
Strada delle Orechiette
---
In Bari there is a famous street called "Strada delle Orechiette", where you can find a ton of Italian Nonnas (Italian word for grandmother), sitting in the street making a type of pasta called Orechiette. 
[Another sidenote…I was watching Friends the other day–I mean is there any where on Earth you can't watch that show?!–and the episode with Joey Tribbiani's grandmother was on. Now knowing "Nonna" means grandma was like a lightbulb moment watching the episode haha. Also….I'm thinkin I know where the usage of "nana" comes from…]
Yeah, so, anyway, you should definitely check the place out is all I'm trying to say.
---
Accomodations
For our accommodations in Bari we again went with an Airbnb. Close to shops, restaurants and within walking distance of many piazzas and photogenic destinations, it was exactly the kind of central–and most importantly, safe— accommodation that really highlights some of the benefits of using sites and app platforms like Airbnb.
---
It's Over? awww
Hopefully you got a little insight into Puglia through these posts. It is mindblowing how much culture and history Italy has to offer; I mean, its smaller than several US States and yet it feels like, one way or another, the entire history of man traces through this country at some point.
I sincerely hope you get a chance to visit this eden. Whether you opt for Florence, Naples, Venice or any of the other numerous visitor staples–Rome? Milan? There's so many!–you simply can't go wrong. Everybody needs, and deserves, to visit this country at least once in their life.
Remember that I'm available to help prepare you as you plan your Italian vacation…Or you could even travel with me on our next group trip!
---
And that wraps my Puglia Road Trip blog series! You can see some additional videos & photos on my social media pages, especially TikTok & Instagram.
Stay Tuned for more…Coming throughout the fall I'll have new posts like Street Food Tours, Tips & Tricks, Shopping Guides and more!
Related Articles
Newsletter
Related Articles