The Ultimate Florence Street Food Tour
---
With Florence being the birthplace of the Renaissance. It beams with art and culture, history in every nook and cranny, and, of course, incredibly great food.  When visiting somewhere new I love to be immersed in the culture of the locals and, in my opinion, there is no better way to do that than a street food tour guided by a local. 
Annnnd this, my friends, is where my good friend Marco and his street food company, Streaty Food Tours comes in. Marco hosts street food tours in Sicily, Florence, Naples, Venice. Marco also believes you get the best experience when you have the local insider scoop. We love Marco. We stan Marco.
Anyway, on a sunny Wednesday morning, Marco called me up to let me know that Streaty was hosting a tour in Florence – for those of you that don't know, Florence is my personal stomping ground. So of course, I jumped at the chance to experience the place I call home through the lens of a local. (and eat ALL of the food)
Please note: this post contains affiliate links which means if you buy something following a link on this page, I'll receive a small commission at no extra cost to you. I only promote products and services that I use and love myself. Thanks for supporting my blog 🙂
---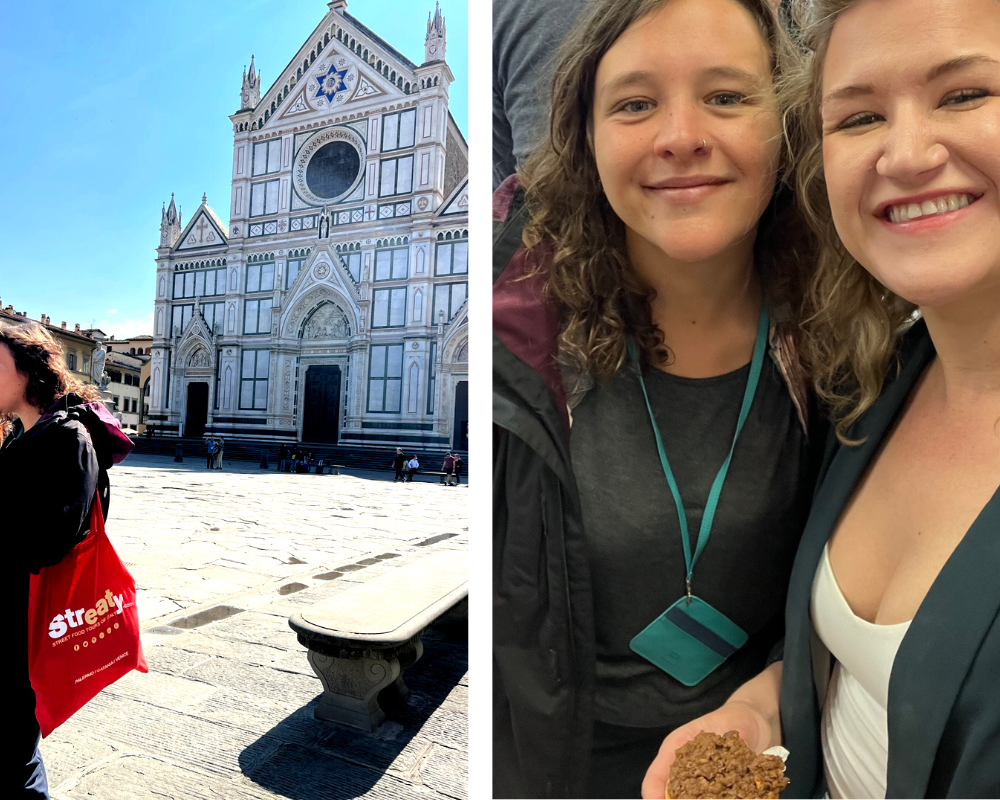 We met our Streaty guide, Alice, in Piazza Santa Croce and made our way over to Mercato di Sant'Ambrogio. 
Mercato di Sant'Ambrogio is one of two major indoor markets in the Florence city center, the other being Mercato Centrale. While Mercato Centrale is the older market and much more well-known to tourists, Mercato di Sant'Ambrogio is the place where the locals go. 
At the market you can find everything from fresh produce to local meats and cheeses, pastas and sauces, and of course, plenty of food stalls where you can sit and eat all the delicious food lining the market.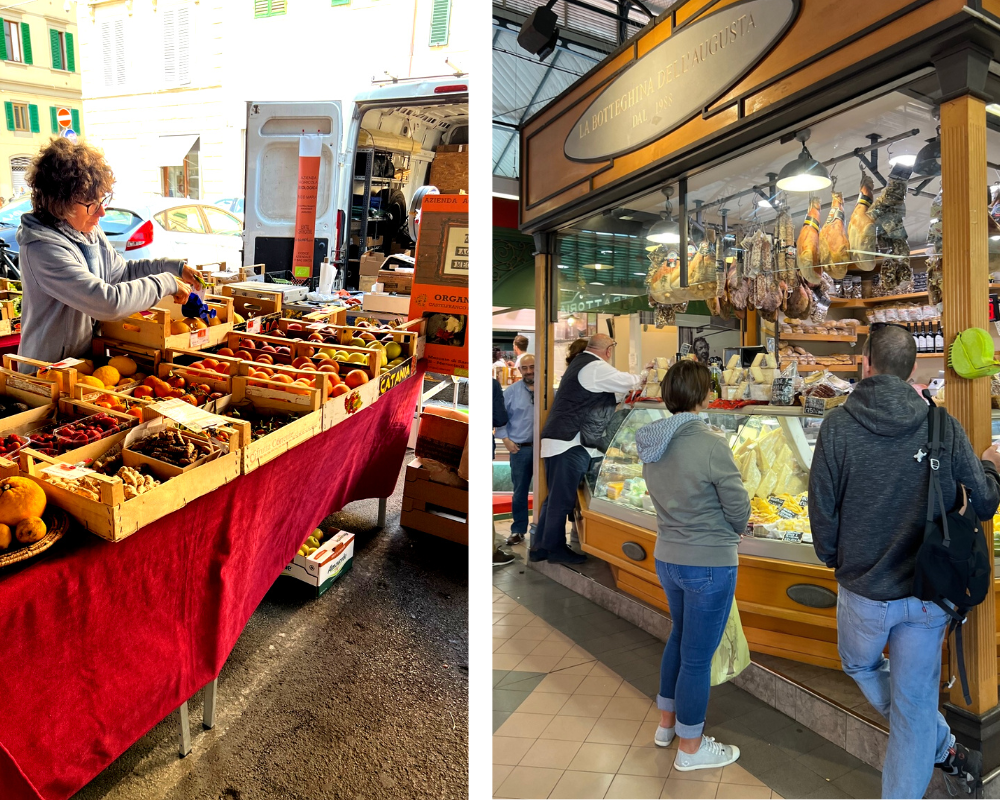 Alice gave us a quick rundown of typical pastas and dishes you'll find in Florence, such as pici pasta (a type of pasta made without egg), wild boar, and truffle EVERYTHING. Honestly no complaints over here, it all looked delicious.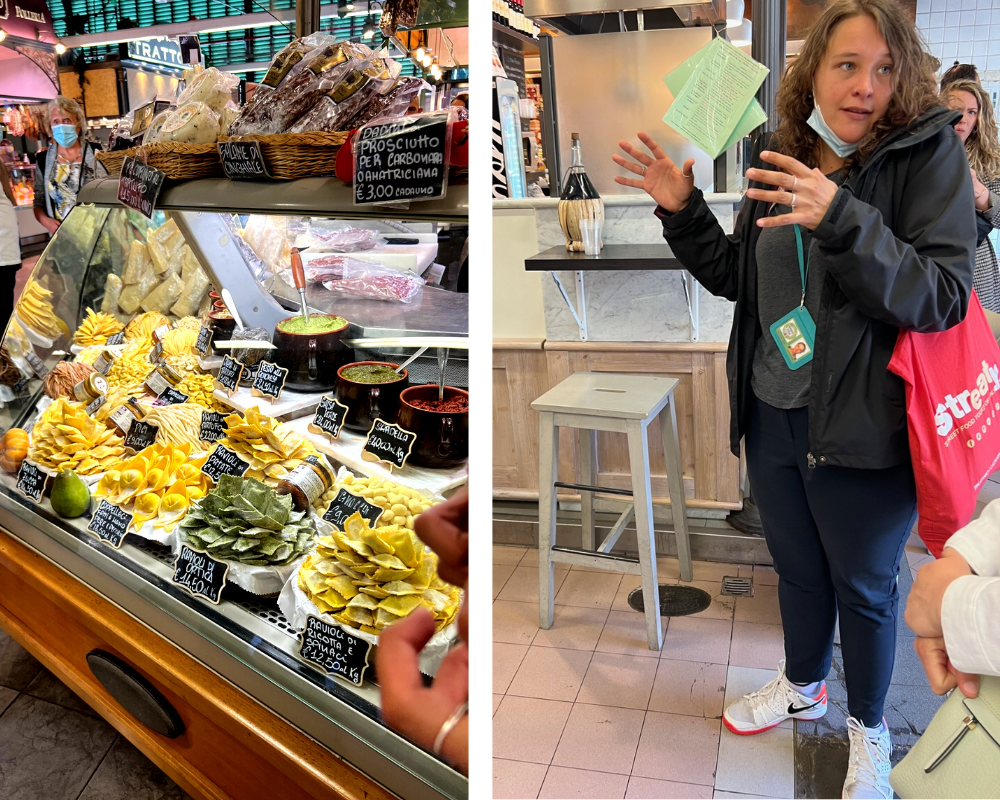 We started off in typical Italian fashion with a glass of wine before being served typical Tuscan crostini topped with "ragu di cinghale", or wild boar ragu. These were incredible and so, so flavorful. I saw stars when I ate it, literal bursts of flavor! Rich, tender, spiced so perfectly but not overwhelming. 
Plus Tuscan bread historically doesn't contain salt, which was actually a good thing because it didn't overpower the ragu and instead just acted as a vehicle FOR the ragu, it's not often that the bread isn't the star of the show, but I just couldn't get enough of the ragu!  (pictured below)
Fun Fact: Tuscany is known for wild boar – they don't have any natural predators so there are actually way too many of them in Tuscany. As Alice said, "They are destroying the countryside so we must eat them!" Can't argue with that logic!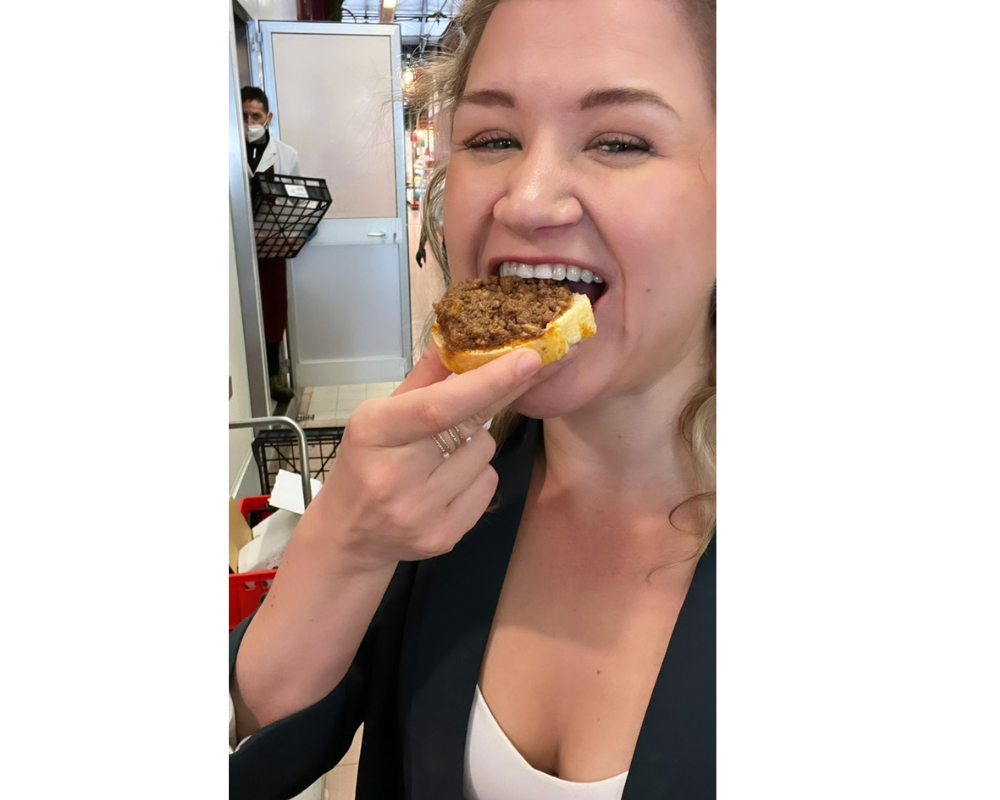 Cue music *I always feel like somebody's watching me." 
We also had a type of beef stew called "Peposo" which is a slow-cooked, peppery beef stew with Chianti red wine. 
Workers back in the day would prepare this stew after a long day's work because it was satisfying, filling, and relatively cheap to make. Think of the most tender, slow-cooked pot roast you've ever had and then times that by 10. The meat was so tender and so flavorful. (Don't lick the screen! You can always book a tour.)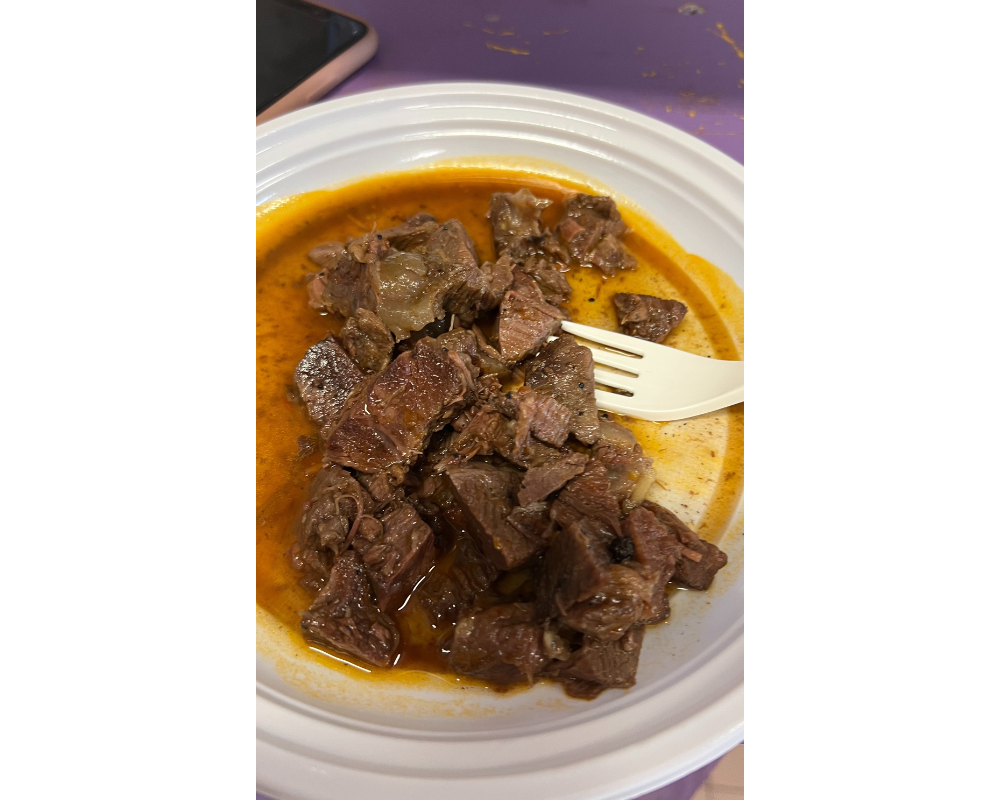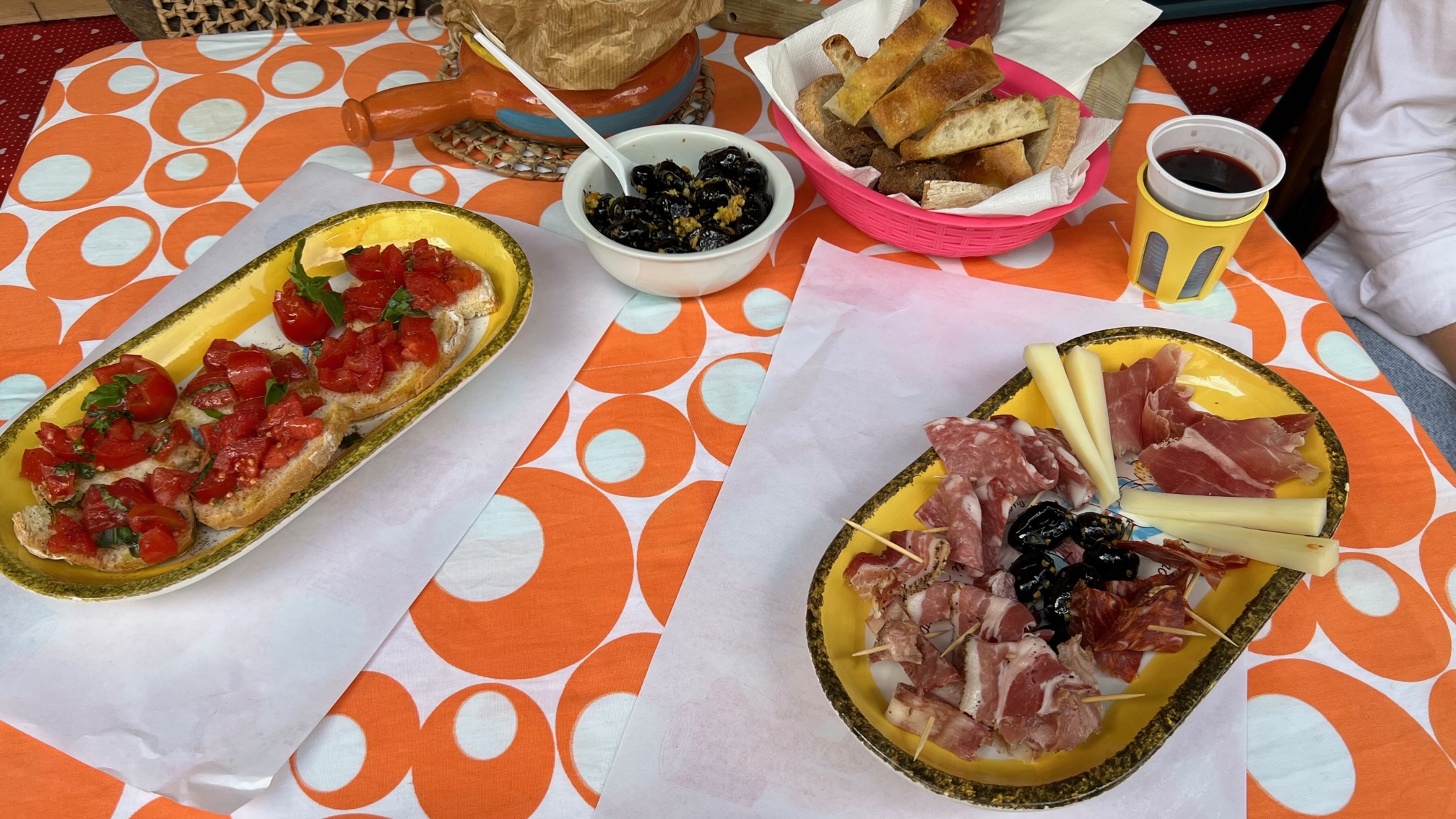 After we were super satisfied with our first stop we went over to the outdoor part of the market and sat down at a stall that had a total of 3 tables and chairs placed randomly around the stall. 
We were greeted with a huge platter of typical Tuscan mixed bites – Prosciutto, Sorpressata, and other Tuscan cured meats, a mixture of fresh cheeses, a bowl of olives, and, as if that wasn't enough, a platter of the most beautiful bruschetta I think I have ever seen. 
Fun fact: I hate tomatoes in the US but love them here. How could you not!! Look at how cute it is 😉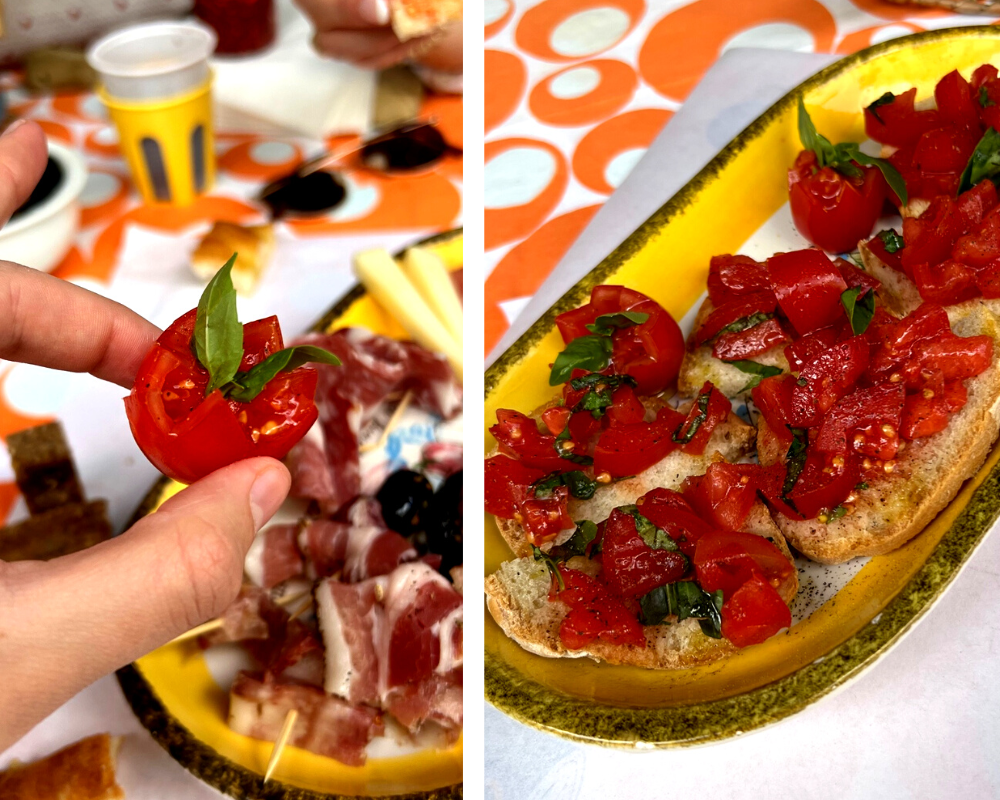 Ok for this next part just stick with me – this may or may not make you squeamish depending on where you come from. 
One of the MOST typical Florentine street food sandwiches is something called Lampredotto…. AKA, cow stomach. And it was our next stop – a local food cart known around Florence for making one of the best Lampredotto sandwiches out there.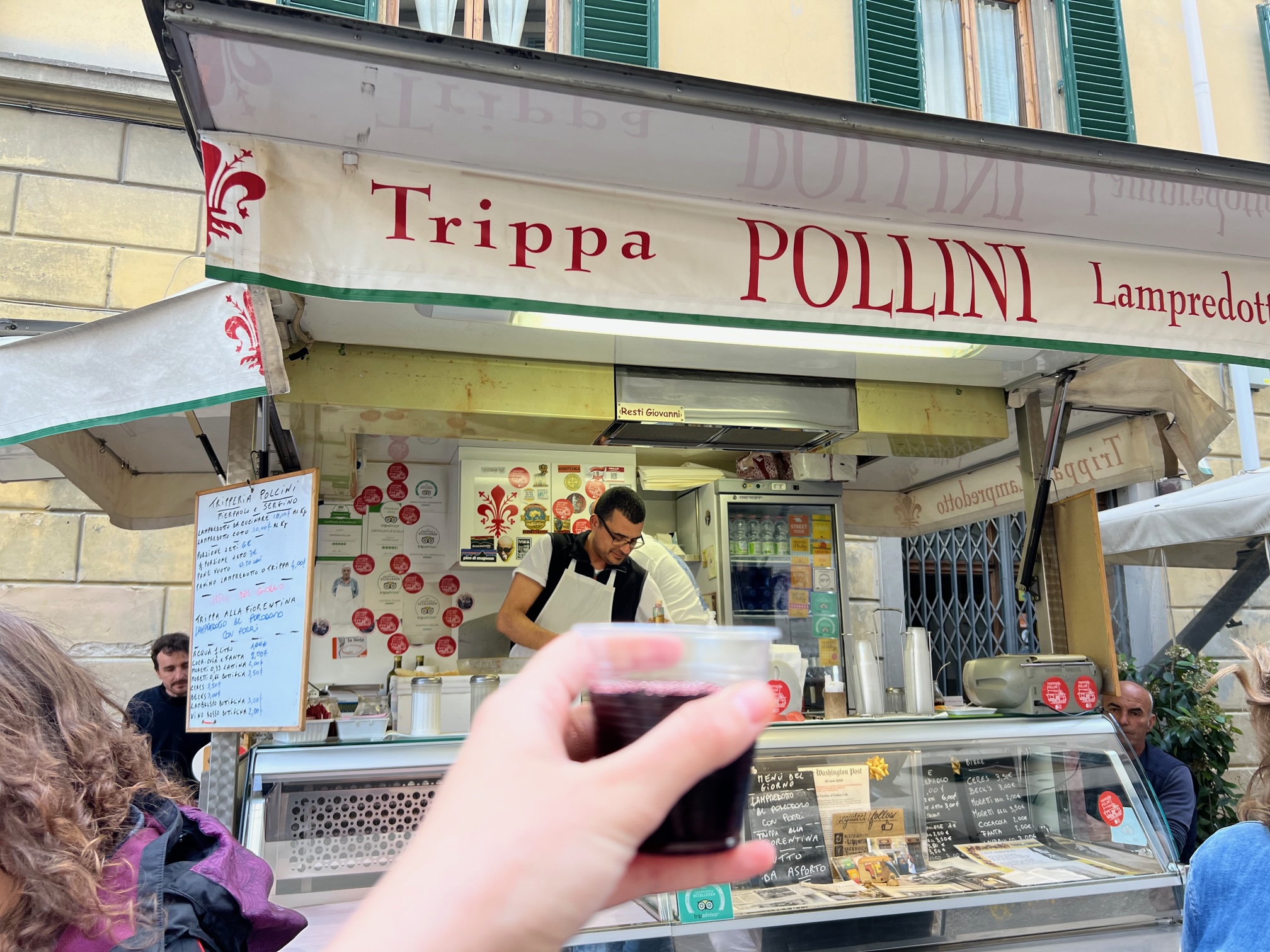 Lampredotto is Darios (aka my boyfriend, who is Florentine through and through) fav sandwich, but it doesn't quite make my list of favorite foods. But, Alice said a glass of wine always helps to settle the nerves. So, that's what we did before receiving our sandwiches. 
Here's the thing about lampredotto: the flavor actually is quite good, which is probably why it's a Florentine favorite. They boil it, top it with parsley sauce and spicy sauce, and all together the flavors work well together. 
If you grew up eating it and it being a common food you consume, I can see why you like it so much. However, this is not my cup of tea.
It is perfectly ok to not like something. But missing out on an experience because you're scared or it's out of your comfort zone is NOT.  As my friend Marco always says, you don't have to LIKE everything, but it's important that you at least TRY it. And he's right – I'm glad I did! But in the future it's probably not going to be my first choice of sandwich.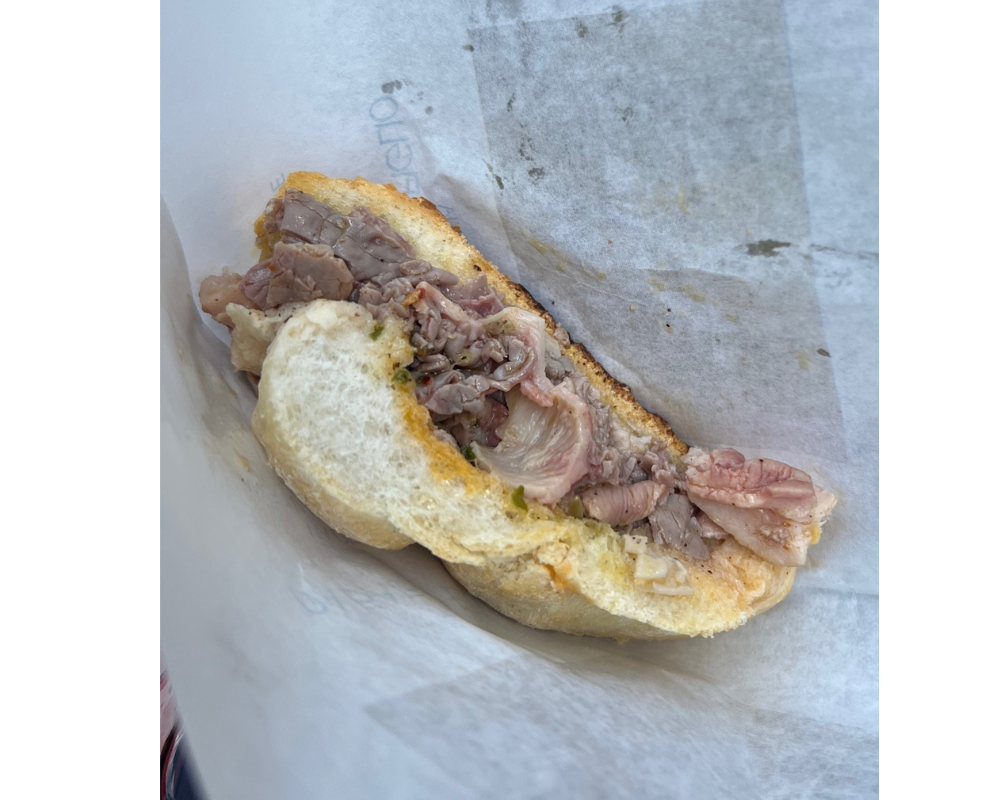 With our lampredotto adventure complete, we made our way to try one of my favorite Florentine street foods, Coccoli! 
Coccoli are little balls of, you guessed it, fried dough, typically either stuffed or wrapped with cheese and prosciutto. I mean come on, it can't get better than that.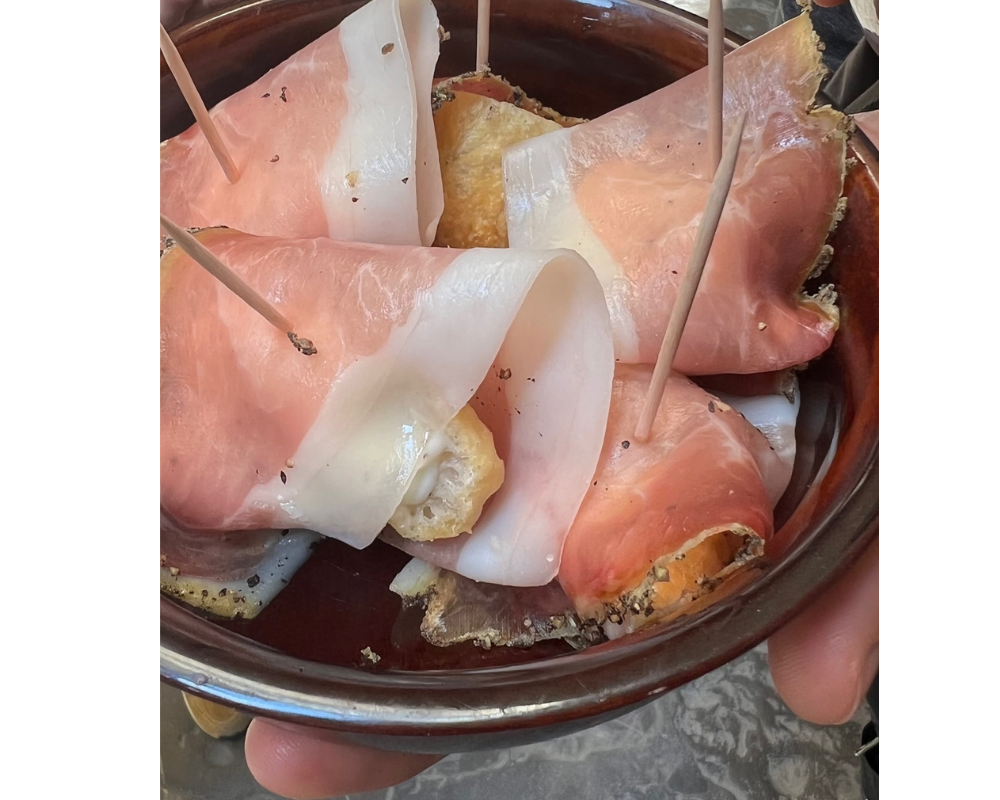 To end our Streaty tour we had to get gelato of course. You can't not have gelato on a food tour in Florence!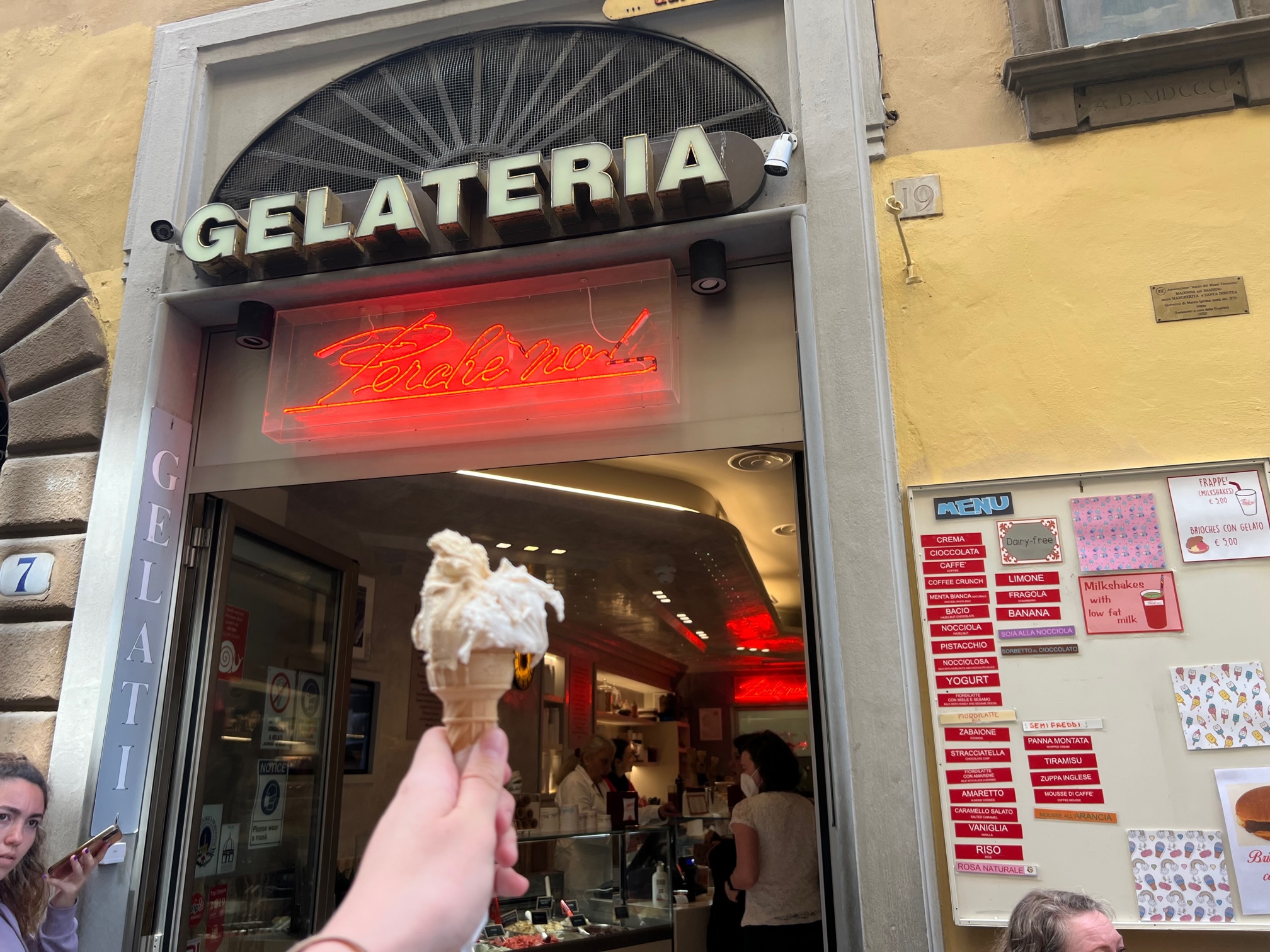 ---
In conclusion, my dear readers…
If you're in Florence, I HIGHLY recommend doing this street food tour with Streaty. It was such a great way to not only see the city I call home and learn more about what I walk through everyday, but also to understand the city and more of its history through food. 
Use code "kacierose" for 5% off your Streaty Food Tour!
Happy eating, friends!
Related Articles
Newsletter
Related Articles