---
My Puglia Road Trip [Part III] — Matera (Basilicata)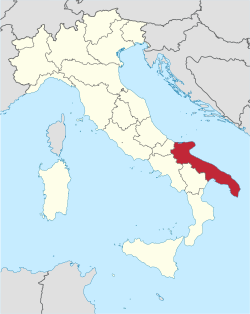 The region of Puglia (or Apulia), Italy
---
We embarked on a 9-day road trip throughout one of the most scenic–and criminally underrated & unheralded–regions of Italy. A coastal region in the southeast "heel" of the country, Puglia (also known as Apulia) remains a hidden gem of sorts as tourists flock to the more well-known cities. After meeting in Bari, our itinerary would take us to Polignano a Mare, Ostuni, Alberbello, Matera and finish with a couple of nights back in Bari.
---
Before we continue on to Days 6 & 7…
I should point out that Matera is actually in the region of Basilicata, to the southwest of of Puglia.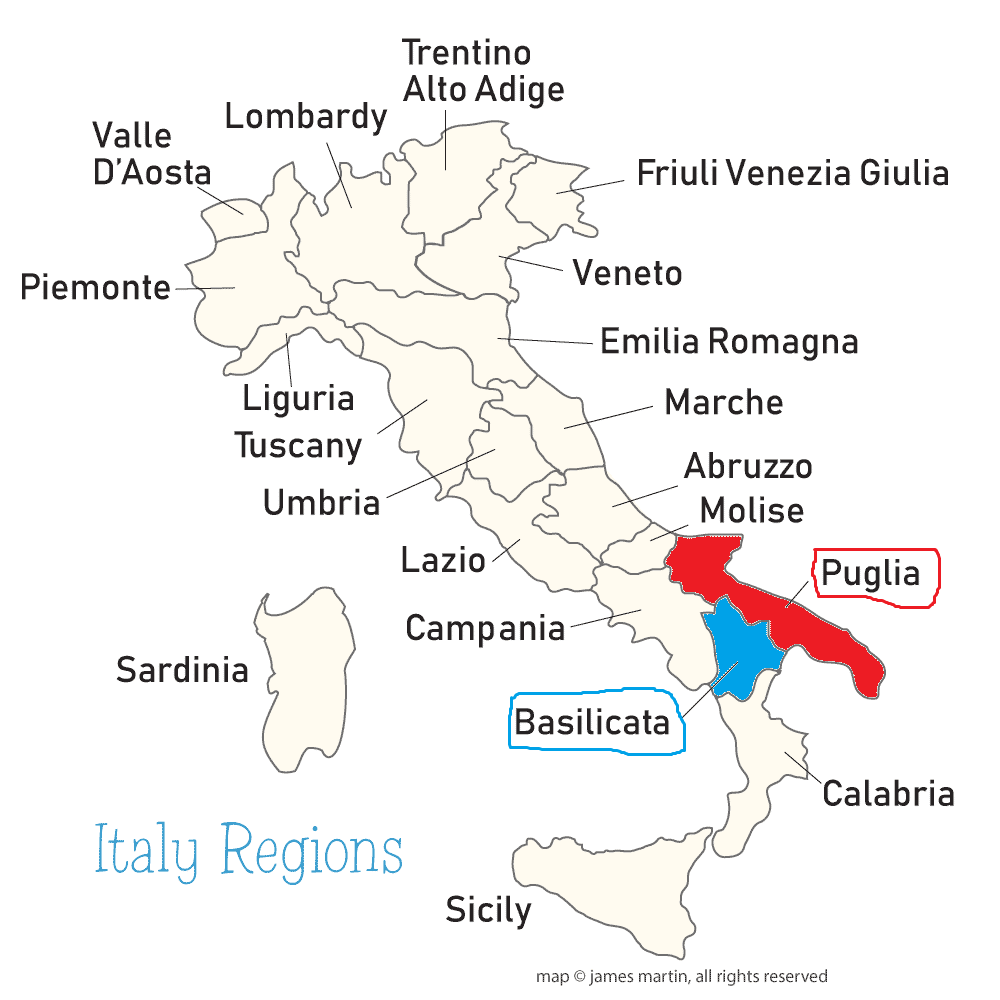 Matera is in Basilicata, bordering Puglia to the south
Just wanna try and make sure I don't offend or slight any lucani 😉
---
After thoroughly enjoying our Day 5 "lazy day" at the Trulli Ad Maiora –check out this Tik Tok for a peek at these gorgeous accommodations– it was time to get back in the saddle again (its a road trip, of course, but 'back in the car again' doesn't exactly pop quite the same) and continue on this epic journey we had embarked upon.
We were headed south, to the region of Basilicata, a mountainous, Gulf of Taranto-bordering "instep" of Italy. 
[Random info I find funny… because Italy is shaped like a boot, the 3 southeastern regions of Italy are colloquially known as The Toe (Calabria), The Heel (Puglia/Apulia), and between them lies The Instep –Basilicata!]
Here we would visit Matera, currently home to the only UNESCO World Heritage Site in the region (although rumor has it there might be a couple more getting some recognition at some point). 
Not as populated as neighboring regions, Basilicata has a complicated past. It hasn't been until relatively recent times that the region was even open to traditional tourists. And it didn't happen overnight for the economically depressed area, neither. I mean, in the years after World War II the Italian Prime Minister Alcide De Gasperi actually referred to Matera, Basilicata's capital city, as a national disgrace!
Oh how far we've come…
Matera, simply, is the oldest city in Italy, the oldest city in Europe, and one of the 3 oldest cities in the entire WORLD. No offense to Mr. De Gasperi, but any city with that resume gets a mulligan for a decade or two of disrepair. 
While still lacking easy accessibility, Matera is slowly gaining traction amongst vacationers for its absolutely one of a kind cave dwellings, aided by the 1993 naming as a European Capital of Culture by the EU. Known as "sassi", these rock-cut & excavated habitations are believed to have been resided in as early as 7000 BCE –or even a few millennia before that! 
And, alas, a mere 900 centuries or so later the sassi are once again called "home" by some. The history of human civilization really does seem to often revolve around the regions of Italy (and Rome, of course).
Okay, history lesson over. Lets get to the good stuff.
---
Matera
---
---
Days 6…My-Oh-My, Matera!
---
The immediate feeling you get when you step foot onto one of the narrow, stone and brick streets throughout Matera is almost indescribable. 
For one thing, you literally feel the history around you. The awe-inspiring views cause almost automatic introspection…honestly it'd be a helluva place for some group therapy if it wasn't for the panic inducing cliffs, heights and seemingly 90 degree drops around any random corner. 
It's crazy to think a stone bench you sit on could have literally been sat on seven, eight, nine thousand years ago. The Sassi you walk in could have been inhabited by people that history doesn't even recognize or know about. It brings you a sense of closeness to the historical people of he region and yet reminds you of the vastness of time & human experience. 
---
I've said this about a lot of places throughout Italy, but it may be most true in Matera, a city comprised of extremely narrow walking paths that occasionally pass for roads:
The best way to see and explore Matera is by walking tour.
This is what we chose, and I highly recommend it.
Besides, I couldn't imagine a traffic jam of tour buses navigating around these cliffs & mountain tops. That'd be more scary than those 90 degree drops. 
matera2

matera3

matera4

matera5
---
For accomodations, we decided that it'd be fitting to stay in a cave home. Not quite the Sassi of millennia ago, but not exactly a Holiday Inn Express, neither.
We ended up staying at the Locus Amoenus.
Essentially within a stone cave, I'd recommend it–though the rock-hard (see what I did there?! haha) beds were a little too firm for my liking.  Noteworthy, too, was the host and staff–very attentive and kind.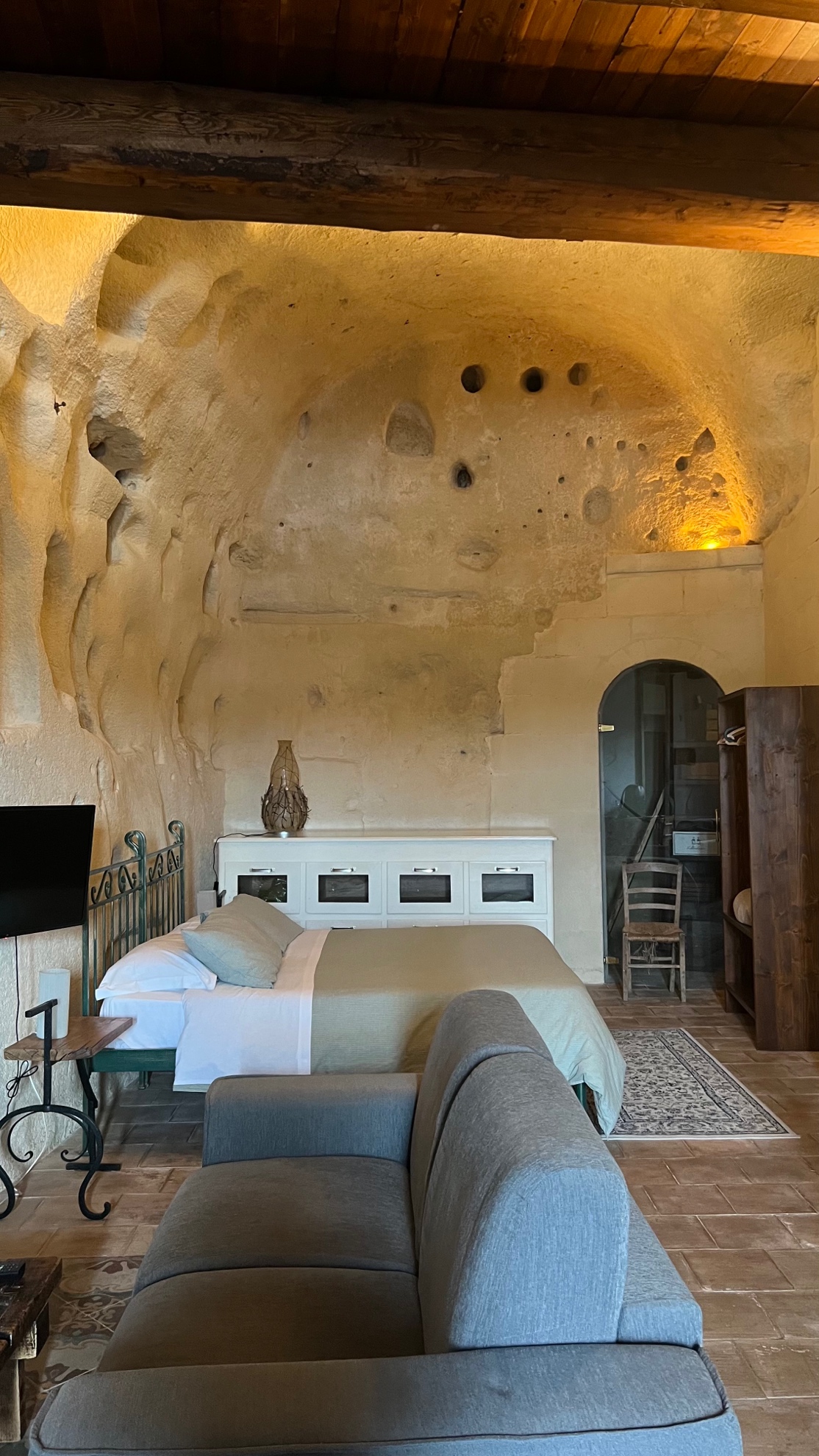 matera6airbb
---
---
Here in Matera we ate at by far our favorite restaurant of the entire trip, Radino Wine Bistrot. It's a restaurant located in a cave from 600BC and the food was absolutely incredible
matera 5

matera radino 4

matera radino2

matera radino3
---
Day 7…A Free Day of Exploration
---
I know, I know…
You've heard me say things like "OMG, you have to see this place!" a million times already in this Puglia blog series, let alone the blog in general.
Sometimes there are places in Italy that are obvious, yet so one of a kind they can't be overstated, like the Roman Coliseum or ruins of Pompeii. It's, of course, one reason why I always encourage people to "get off the bus" and do walking tours, or street food tours for city-specific culture & cuisine. 
I mentioned in Part 2 how sometimes you just need a "decompression" day in your vacation. Well, sometimes you also just need that "free" day without a set itinerary of tours and stops, despite how beneficial the aforementioned tours can be. 
The best part of these "winging it" types of days is you sometimes come across people, or scenes, or buildings, that you probably would have missed…and they can be the most memorable experiences of a trip.
For us in Matera, there was two specific places this can be said for… 
---
matera cathedral

matera casa
---
---
And there you have how we spent two days in one of the oldest cities of the entire world, Matera! You can see some additional videos & photos on my social media pages, especially TikTok & Instagram.
Stay Tuned for Part 4, Bari, coming next week!
Related Articles
Newsletter
Related Articles