The absolute BEST Street Food Tour in Catania, Sicily
---
The rich history, stunning beaches, and the incredibly kind people make the Island of Sicily one of my favorite places in Italy. But what really swept me off my feet was the FOOD. 
Because of Sicily's rich and diverse history you get one of the best melting pots that reflects in their amazing food. You can taste the different cultures and the stories they tell with each bite.
When visiting somewhere new I love to get swept away in the daily lives and adventures of the locals and, in my opinion, there is no better way to do that than a street food tour guided by a local. I love Sicilian street food, so when I decided to visit Catania, one of the biggest cities in Sicily located on the Eastern side of the Island, for the first time, I of course had to take a street food tour – the opportunity to have a local take me around the city to try THEIR favorite street food spots wasn't one I could pass up!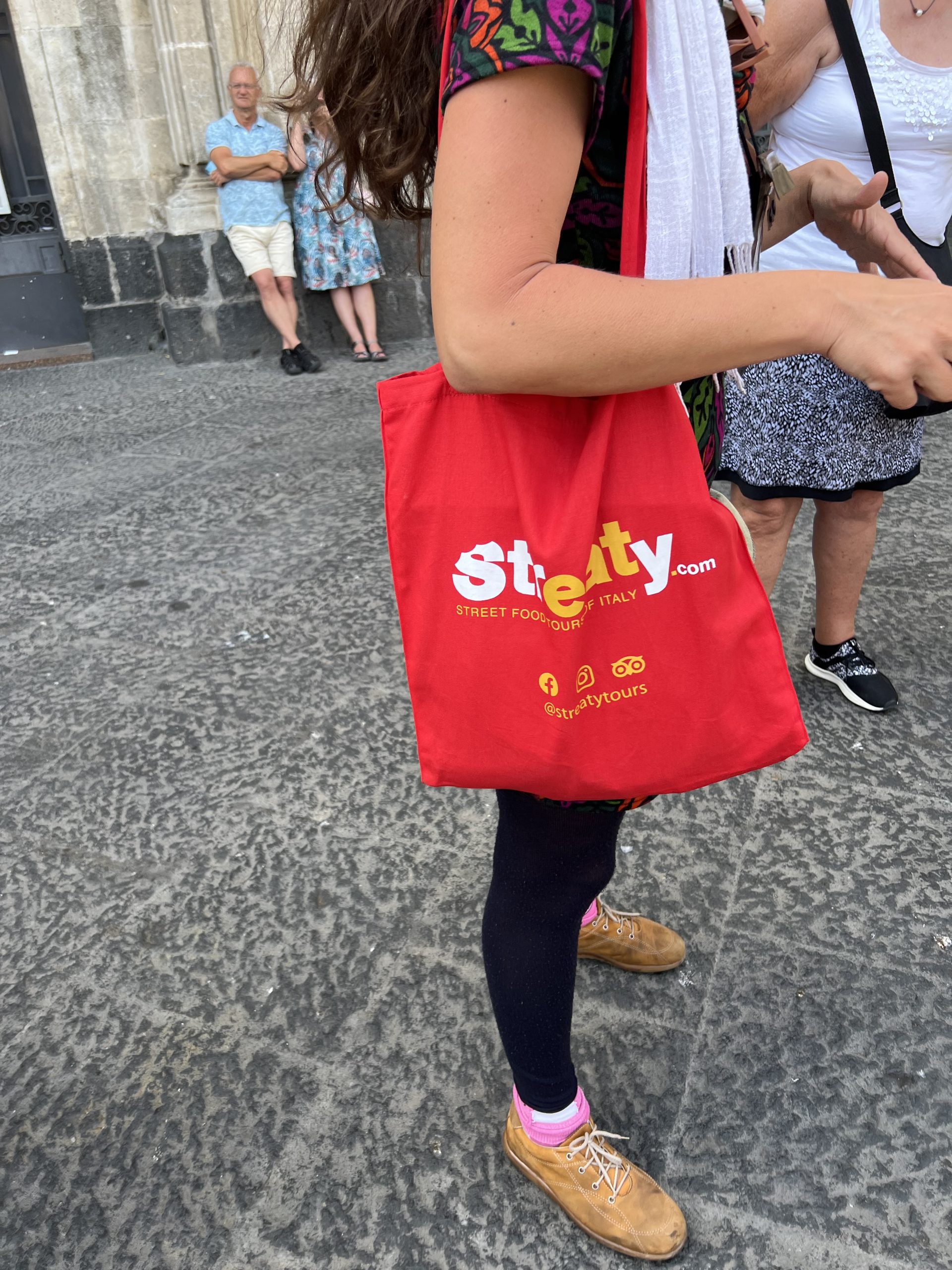 My friend Marco, who is Sicilian born and raised, runs the company Streaty Food Tours. They give street food tours in Sicily (Palermo & Catania), Florence, Naples, and Venice! Marco and I share the similar view that street food is the best way to understand the soul of a city, so when I decided to take this trip to Catania I reached out to him immediately. (Best decision ever!)
Please note: this post contains affiliate links which means if you buy something following a link on this page, I'll receive a small commission at no extra cost to you. I only promote products and services that I use and love myself. Thanks for supporting my blog 🙂
---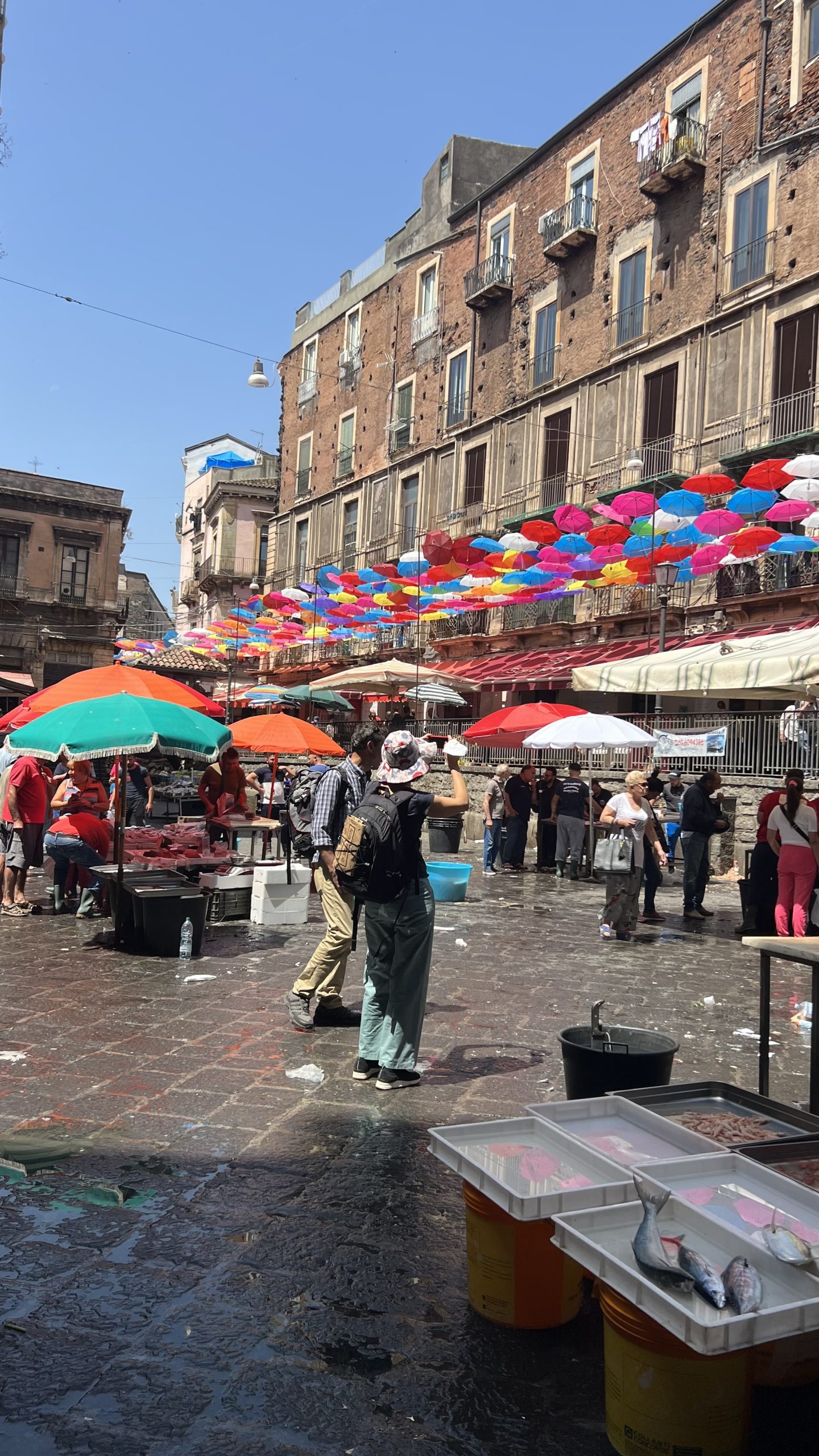 We started out our tour in La Peschiera, the famous fish market that's been around as long as the city of Catania has been and is commonly regarded as one of the best fish markets in all of Italy. 
**Full disclosure: it is chaotic and crazy and unapologetically gritty (wear closed-toe shoes haha), but here you'll also find some of the best authentic seafood and street food that Catania has to offer. It's so worth it, trust me!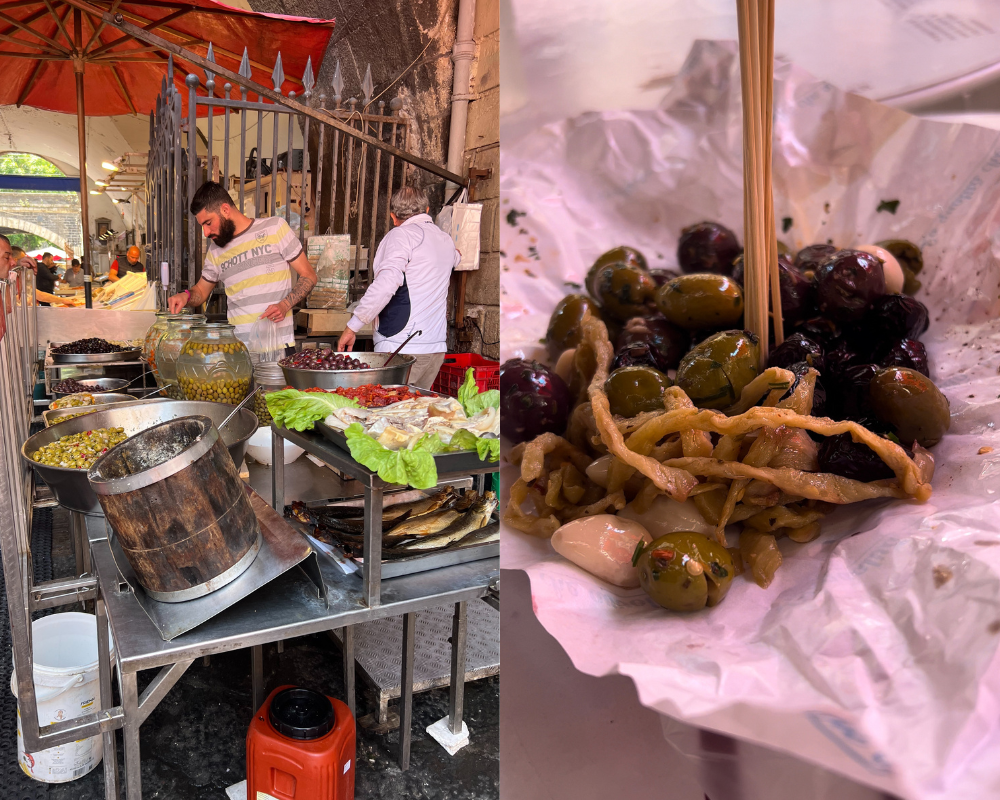 We dove right into the tour with fresh olives, eggplant, and cloves of some of the freshest garlic I've ever tasted. I never thought I'd be eating cloves of garlic, but here I am, living my best life, eating cloves of garlic.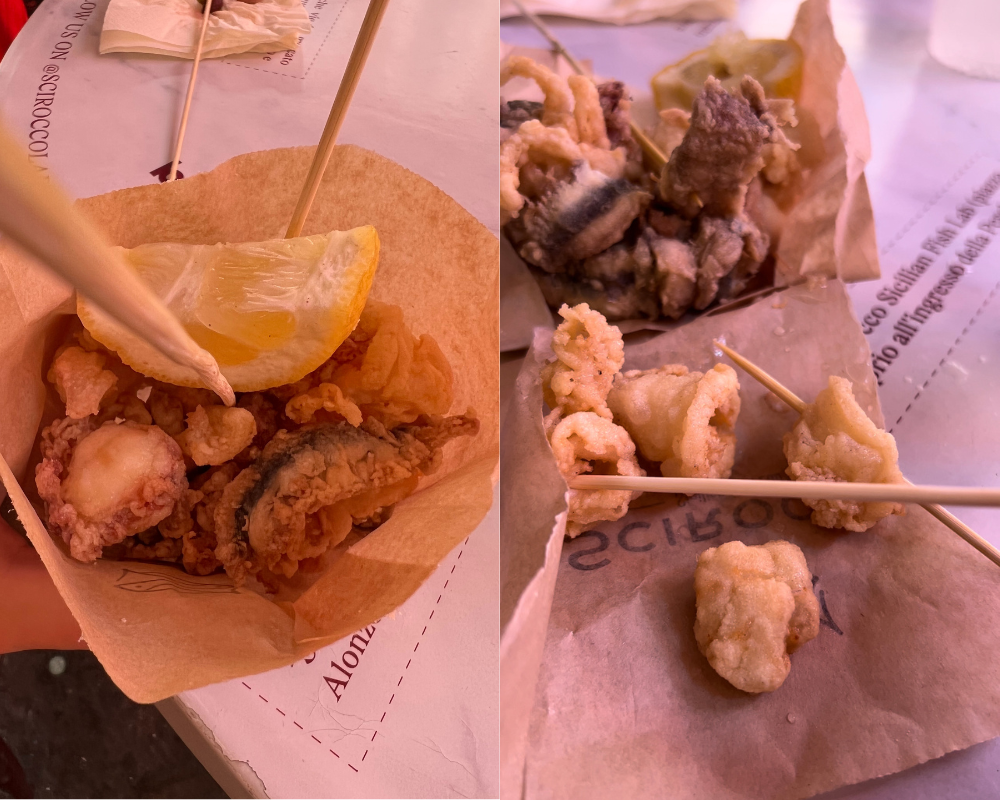 Being in one of the best fish markets in the country, of course we had to try the fresh seafood that Catania has to offer in the form of Frutti di Mare which is – you guessed it – a cone of fried seafood. I'm not typically a seafood person, but I surprisingly enjoyed this and didn't feel heavy or sick after eating it. Let's be real though, I think you could fry a shoe and it would be good. 
As we were finishing up our Frutti di Mare, our wonderful guide hustled over with a tray of what looked like sparkling water. They explained it's the original electrolyte hydration drink of just seltzer water, lemon, and salt – Sicilians have been drinking this for centuries in order to stay hydrated in the hot climate, and to my relief I did feel much more hydrated afterward! (We can't have a #HotGirlSummer if we are dehydrated)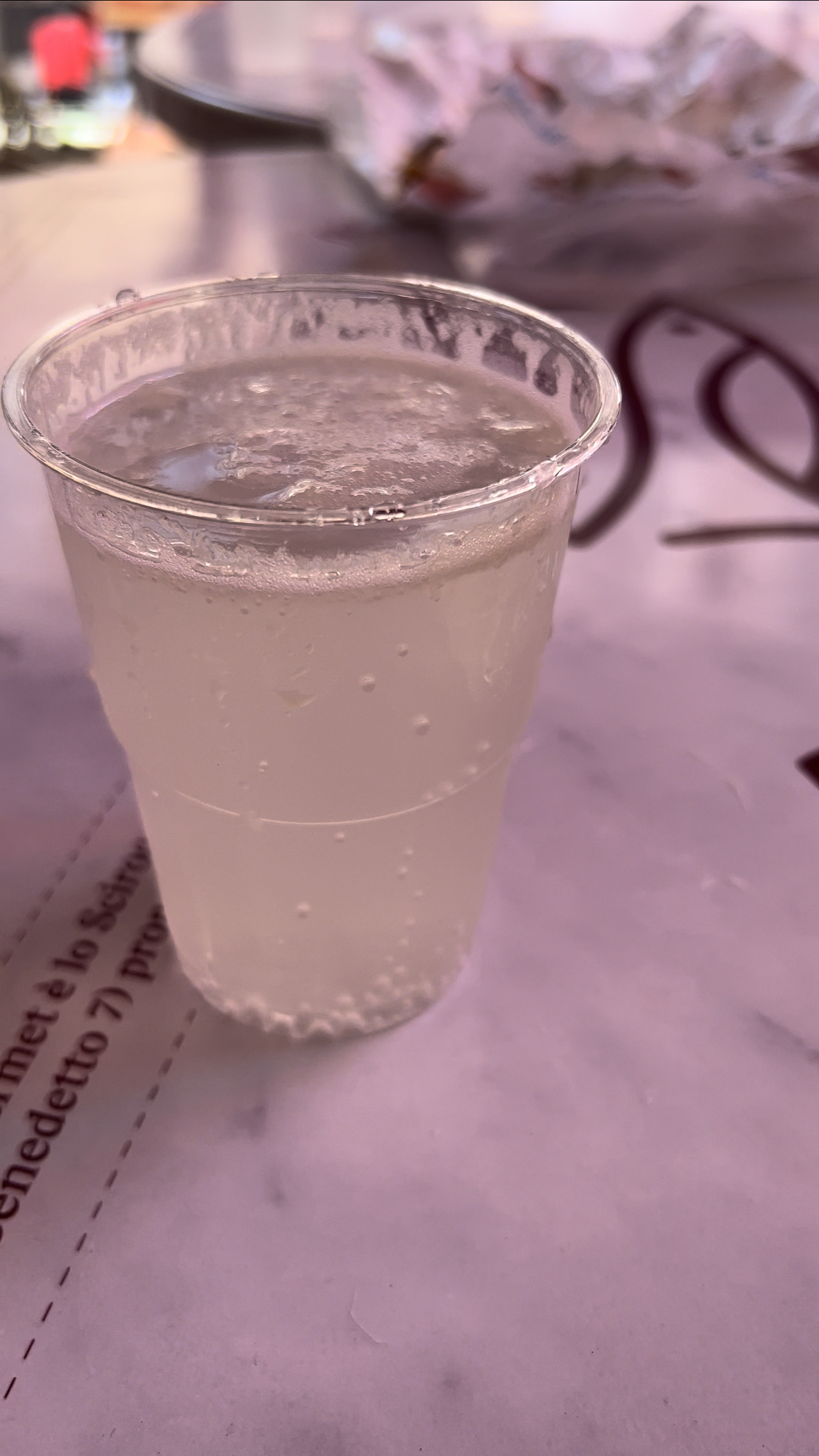 As if you need more reasons to love street food tours with Streaty, the guides are so knowledgeable. The entire experience is always so much more than just a food tour – they also include bits of history and show you hidden spots around the city that you would have passed right by if you weren't a local. 
For example, on this tour, while we were walking in between food stops, our guide took the time to point out pieces of history around us before taking us to a little, unassuming cafe nearby. 
She led us through the cafe and down a set of stairs, and then all of a sudden it opened up into a secret underground lava cave that was a result of the eruption of Mt. Etna in the 17th century that buried half the city, including the rivers running through Catania! I never would have known this spot was here without our guide. It was such a cool unexpected stop that I never expected to get on a food tour. History buffs and foodies unite! Best of both worlds with a glass of wine to top it off!
Check this out!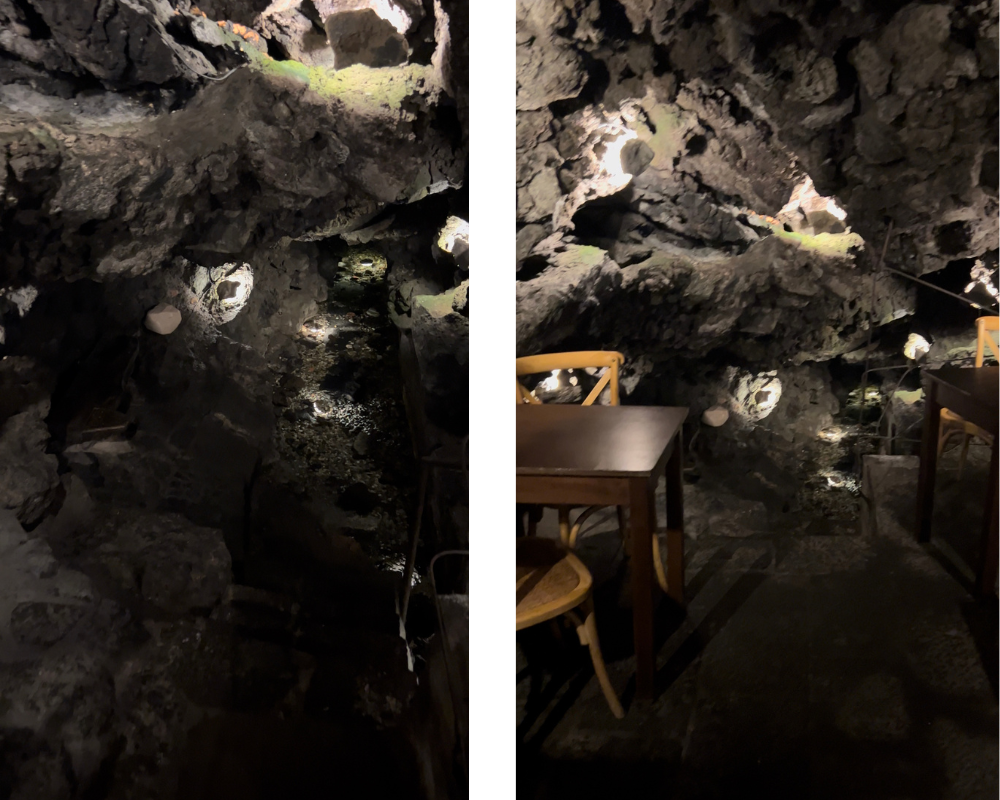 You can have lunch in a lava tube! 
Ok, let's get back to the food tour before I get too off topic with the amazingness of this place.
We made our way over to eat one of my favorite typical Sicilian street foods, Arancini (or Arancine, depending on where in Sicily you are). Arancini is a breaded, fried rice ball filled with things like cheese and prosciutto or ragu. I frickin love it so much. Are you drooling yet? Cause I am.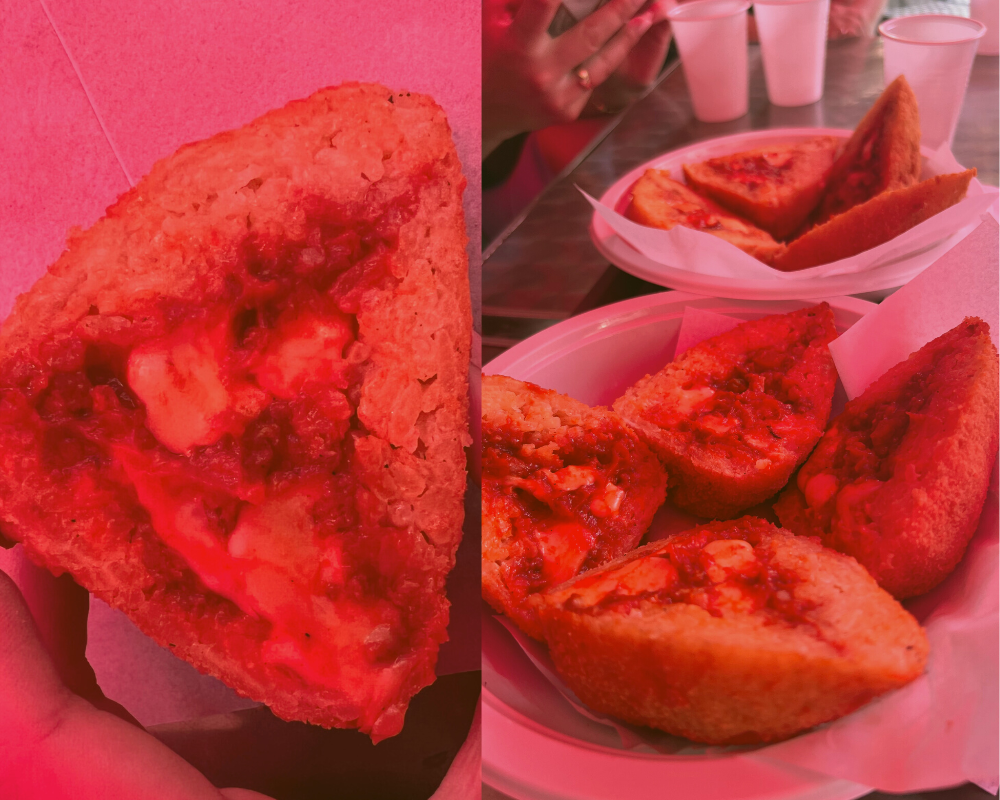 We also tried another fried street food called "Siciliana", which is a type of pizza dough pocket thing that is stuffed with cheese and anchovies. I know the thought of anchovies might sound icky if you aren't used to them being a normal part of your food culture, but they were salty, didn't taste fishy and paired so nicely with the cheese you would never know you were eating a fish. Remember what we say "Do the sh!t that scares you!" 😉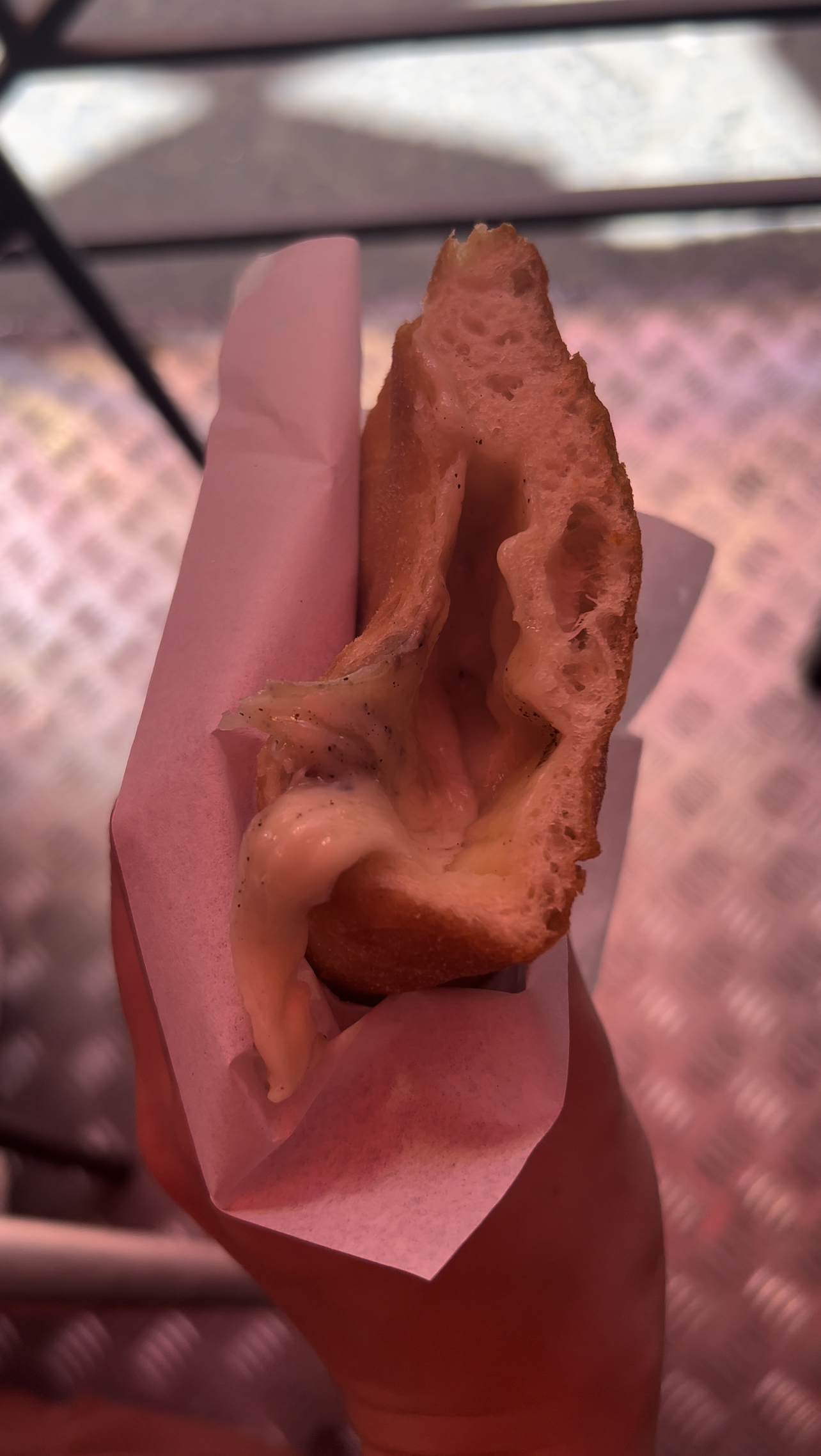 We walked around a bit letting our food digest to make room for what might be my new favorite Sicilian street food. (I know I'm surprised too)
Pictured below, my lovely readers, is called "Cipollina". It's a pastry filled with sweet onion and I seriously could've eaten 10 of these! They were that good. I love aranicini and have always said it was my favorite Sicilian street food, but after trying Cipollina everything has changed.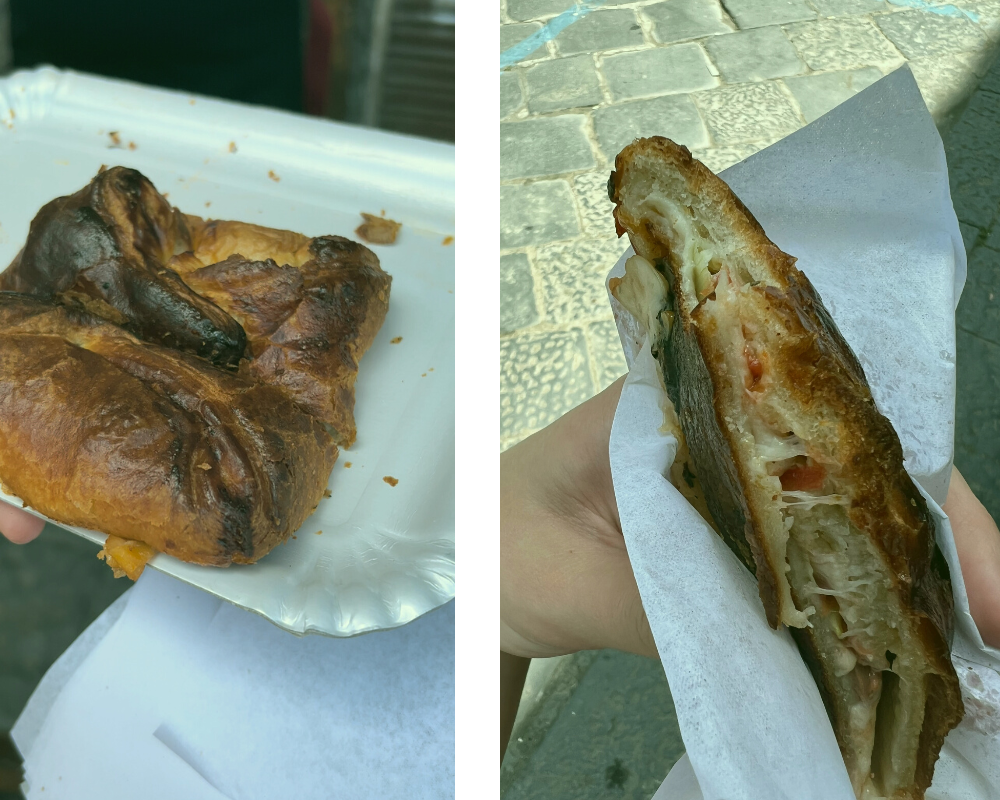 Of course we couldn't end the food tour without dessert, so we hurried over to try one of the most typical desserts from Sicily, "Minne di Sant'Agata". It is a pastry filled with sweetened ricotta cream, covered with white icing with a cherry on top. This pastry actually has a really morbid history behind it, which our guide told us all about (again, so much more than a food tour). 
If you're interested in learning more about the history behind this tasty little treat you can find that here.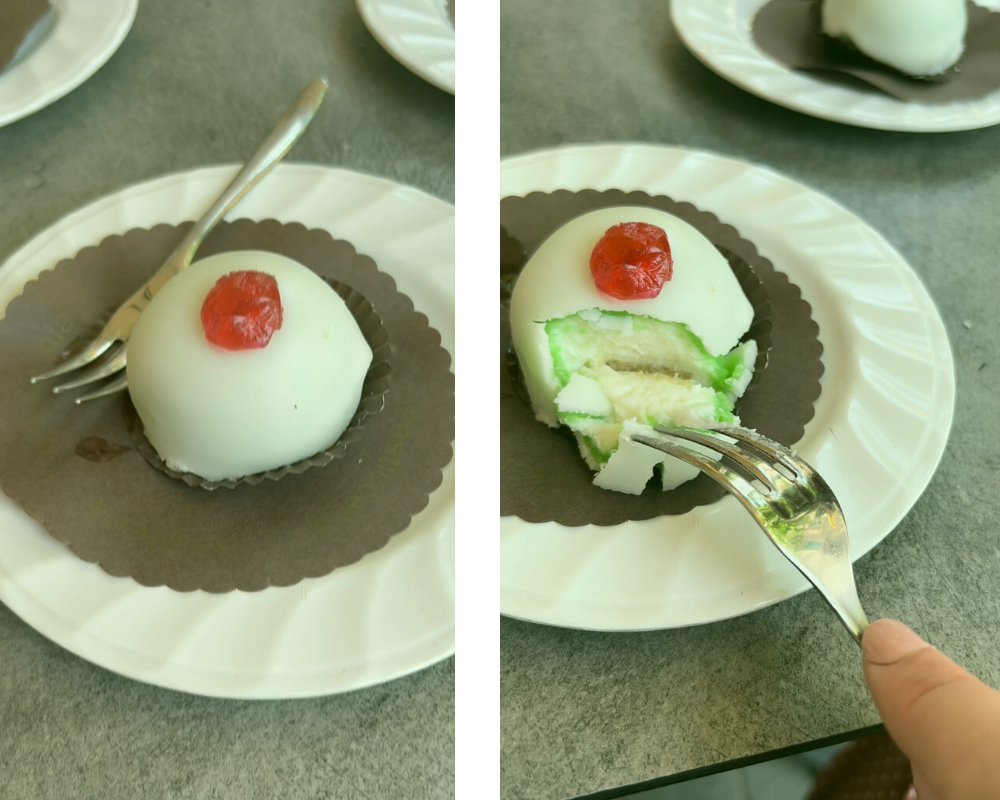 ---
In conclusion, my dear readers…
All in all, if you're in Sicily I HIGHLY recommend checking out Streaty Food Tours. They are simply awesome and provide such an awesome experience for tourists to not only see and enjoy the city, but to fully immerse themselves in the culture. And because I cannot recommend them enough, Marco gave me a discount code to share with all of you!
They also hold tours in Naples, Florence, and Venice, so if you are in any of these cities and want to experience Italian food the way locals do, check them out and then tag me in all of the food goodness!! 
Happy eating, friends!
Related Articles
Newsletter
Related Articles