Your Full Guide to Trains in Italy
Let's break it down
---
Figuring out transportation within a foreign country can be HELLLA stressful. There's so many options and possible methods of transportation that comparing them all can easily get really overwhelming, really quickly. Trust me, I know – I've been there.
Let's just cut right to it – trains are hands-down the most convenient way to travel through Italy if you're a tourist. They're quick, budget-friendly, accessible, eco-friendly, and the best part, incredibly scenic. Most of the country is connected through train, so they're very easy to navigate once you actually KNOW how to navigate them.
So here is everything you need to know about trains in Italy so you can be fully prepared and ready for your trip. Let's get to it.
---
Words to know
---
Let's start off with some words to become familiar with that you'll see throughout train stations in Italy:
Platform = Binario
Ticket(s) = Biglietto(i)
Train = Treno
Station = Stazione
Information Desk = L'ufficio informazioni
Coach / Carriage = Carrozza
Regional = Regionale
High-Speed = Alta Velocità
---
Names of the Major Train Stations in Italy
---
A big thing I find that many tourists don't realize is that most of the major cities in Italy are pronounced differently in Italian than they are in English. I can't tell you how many times I've had someone tell me they were waiting for the "Florence" train station stop without realizing that it literally…doesn't exist.
Here are the names of the largest train stations in Italy:
Milan: Milano Centrale
Venice: Venezia St. Lucia
Florence: Firenze S.M. Novella
Rome: Roma Termini
Naples: Napoli Centrale
---
Types of Trains
---
Throughout this guide you will see the terms "High-Speed" or "Regional" used a lot. High-speed trains, or express trains, are sleek, efficient trains that connect the major cities within Italy together, such as Rome, Florence, Milan, Naples, etc, with few or no stops in between. Regional trains, on the other hand, are smaller, slower trains that WILL make stops in bigger cities, but with many local stops in between.
*Cracks neck* And thus, our guide officially begins.
There are two main train companies that operate in Italy:
Which train company you can use will depend on your schedule, budget, and where exactly you want to go.
Trenitalia
---
Trenitalia is Italy's state-run train company that has a large fleet of high-speed, express trains that make stops in all the major cities, however they ALSO have Regional trains that make stops in smaller Italian cities (Pisa, Bologna, Lucca, etc.) and veryyyy local, rural areas.
There are several smaller trainline fleets that run under the TrenItalia umbrella, in a sense. They all serve a certain purpose – some are high-speed trains that only travel between big cities some are regional trains that travel between small towns and local stops, and some do a bit a both. To be honest, I don't think you don't need to pay much attention to them, since so if you need to get to a certain city, you're more likely to take whatever train is quickest, fastest and cheapest that gets you there. However in the interest of being incredibly thorough so you feel super knowledgeable, lets break them all down:
Types of Trenitalia Trains:
"Le Frecce" ("The Arrows") Fleet
The "Le Frecce" fleet are Trenitalias fastest fleet of trains (hence why they're called "The Arrows") and primarily serves the big and medium-sized cities within Italy. Within "Le Frecce", there are three different types of trains: Frecciarossa, Frecciargento, and Frecciabianca.
FRECCIAROSSA

FRECCIAROSSA trains are the high-speed, express trains used by Trenitalia to travel to the biggest cities and train stations within Italy. They run up to 300 km/h, have air conditioning, outlets, and Wi-Fi. Because they are the express trains, they are sleek, comfortable, and reliable (for the most part) for connections. They offer food and beverage services and have a range of inclusions for the different ticket tiers. For someone planning on visiting an traveling between the bigger cities in Italy, they'll likely be on a FRECCIAROSSA train.

For more information on FRECCIAROSSA Trains, click here: FRECCIAROSSA run through the high-speed line with fast and frequent connections – Frecce – Trenitalia

FRECCIARGENTO

FRECCIARGENTO trains run on both high-speed express tracks as well as more regional, traditional tracks in northern and central Italy, such as Bolzano, Trento, Venice, Verona, Mantua, Genoa, Lecce and Reggio Calabria from Rome, and the Adriatic coast from Milan. They run up to 250 km/h, have air conditioning, bistros and other food/drink services, and electrical outlets, to name a few features.

For more information on FRECCARGENTO Trains, click here: Frecciargento, speedy connections in comfortable and frequent times – Frecce – Trenitalia

FRECCIABIANCA

FrecciaBianca trains mainly make stops at regional destinations with a few stops in bigger cities such as Milan, Venice, and Rome. They are the slowest of the Trenitalia "Le Frecce" fleet, and have amenities such as air conditioning, outlets and a food bistro in some cases.

For more information on FRECCIABIANCA Trains, click here: Frecciabianca, widespread and frequent connections – Frecce – Trenitalia
"Intercity" Fleet
The Intercity fleet in Trenitalia were the fastest trains Trenitalia offered before the "Le Frecce" fleet came along. Operating as Regional trains instead of High-Speed, they run up to 200 km/h, and connect many cities within Italy together. They are typically cheaper than high-speed trains, but that's because they make more stops at many stations along the train route and in some cases, you may have to change trains midway.
"Regionale" Fleet
And last but not least, we have the Regionale fleet of Trenitalia. These trains are the slowest and oldest of all the fleets and make stops to all the smaller and more local towns in Italy. As I mentioned, the trains are often very old, so there may or may not be air conditioning, seating is open no matter your destination, and there is only one tier of ticket. They're often the least expensive but also the slowest – a 3-hour trip on a High-Speed train can take up to 9 hours on a Regionale Train.
Again, I don't necessarily think this is something you need to pay much attention to, but we love thoroughness here so that's why I've included it. When you search in the TrenItalia website, all the trains serving the destination you want to go will appear, and you can pick whatever time and price works best for you.
Navigating the Trenitalia Website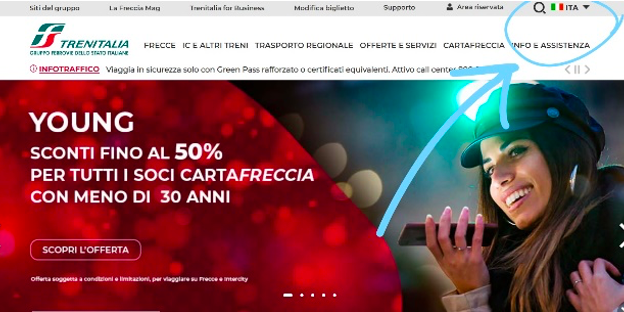 The Trenitalia website is incredibly handy for tourists as they offer translation of the site in 4 different languages: Italian, English, French, German, and Chinese. To change the language on website, head to the top right-hand corner of the screen:
Something specific to note about the Trenitalia website is that because the company is owned and operated by the Italian government, you will have to use the Italian pronunciation of cities when searching for trains as opposed to the English names, even if you change the language on the site. For example, here are some of the biggest Italian cities written in English with their Italian counterparts:
Florence = Firenze
Milan = Milano
Rome = Rome
Venice = Venezia
Naples = Napoli
Different Ticket Classes on Trenitalia
Trenitalia offers 6 different ticket tier types and within those 6 different tier types, 5 SUB tier types: Base, Economy, and Super-Economy, Young, and Senior. Let's start by differentiating each of the 6 main ticket types:
Executive

Executive Class is the top tier of Trenitalia and they are niiiiiiice. Like, real nice. There's only one Executive car per train, and each car only has 10 seat to make sure everyone has space and a window seat. The seats also recline 180 degrees in case you want to take a nice long nap. You also have access to the FRECCIAClub with an executive ticket, as well as full meal options on board.

Business

Business is the next tier after Executive, and they also offer big, squishy seats that recline and generally offer lots of room. With business tickets you receive a welcome drink upon boarding as well as a little snack bag.

Business Area Silent (Area Silenzio)

Business Area Silent offers the same amenities as Business, just in a designated quiet car where external noises and sounds are not allowed.

Premium

The third level below Executive and Business, premium level seats are still spacious, albeit not as spacious as executive or business. With a premium ticket you also receive a welcome drink upon boarding as well as a little snack bag.

Standard

The base level of all the ticket types, Standard is the most basic ticket you can get on Trenitalia.

Standard Area Silent (Area Silenzio)

Same as Business Area Silent, Standard Area Silent offers the same amenities and features as a Standard ticket, just without any external noise or sounds permitted.
The 5 Sub-Categories on Each
As I mentioned above, when you choose your ticket tier type (Premium, Business, Standard, etc.), you'll next be asked to choose between 5 different sub-tiers of each of those tickets. They are Base, Economy, Super Economy, Young, and Senior:
Base

The Base ticket offers the most flexibility out of all of these sub-tiers. With a base ticket, you have more refund options and can make as many changes to your ticket that you want, right up until its departure time and only need to pay the difference in price if there is any. The really cool thing about the Base ticket option, however, is that you can ALSO change your ticket up to an hour after your train departs, with no change fees – i.e., if you miss your train, you wont need to purchase an entirely separate ticket.

Economy

The next option is the Economy level. Economy level tickets still have flexibility with changes (not refunds) and will allow you to change your ticket to a different train and you'll only need to pay the difference between your ticket price and the base level price of the ticket you want.

Super-Economy

And of course, the most basic of them all, the Super-Economy level is the cheapest but the least forgiving. With a Super-Economy level ticket, you cannot change nor refund your ticket for any reason.

Young

The "Young" tier ticket is reserved for those 30 and under, and has the same flexibility as an Economy ticket, just at a slightly lower rate.

Senior

The "Senior" tier ticket is reserved for those 60 and older and has the same flexibility as an Economy level ticket, just at a slightly lower rate.
Honestly, I've always traveled on Trenitalia with a Standard ticket. If I know there might be a possibility I might need to change the ticket, I'll purchase the Base or Economy level, otherwise, I'll just pick whatever is available and cheapest. It is nice to have the peace of mind of being able to change your ticket though if need be, so in my opinion opting for a Base or Economy level ticket is the better option. As for the main ticket tier – again, in my opinion, if you're just a regular tourist traveling for leisure purposes on a train less than 3 hours long, I personally don't think it's necessary to pay a higher price for a fairly quick trip. If you were, however, planning a long travel trip that will set you on the train for 6+ hours, it might be worth it to pay a bit more for a more comfortable seating arrangement. At the end of the day though, it's totally up to you which class you decide to travel in.
Ticket Modifications on Trenitalia
As I mentioned above, with Base level or Economy level tickets it's very easy and not super expensive to change your ticket on Trenitalia if you end up needing or wanting to take a different train. I've found myself more than once changing my Standard, Economy-level train ticket to an earlier train as soon as 10 minutes before the train is set to depart. It typically only costs me an extra 10 euro per ticket (the difference between the Economy and Base level ticket), which isn't too bad in the grand scale of things. Of course, the actual possibility of changing your train time totally depends on whether or not the train you want to change to is sold out or not, but it's good to know that it's not super difficult to do.
There's a couple of ways you can change your train time:
if you've bought your ticket on the Trenitalia website, you can easily change it through your confirmation email containing your ticket. You can reach the "Manage Ticket" Section by heading to the top search bar on the main page and clicking "Purchases".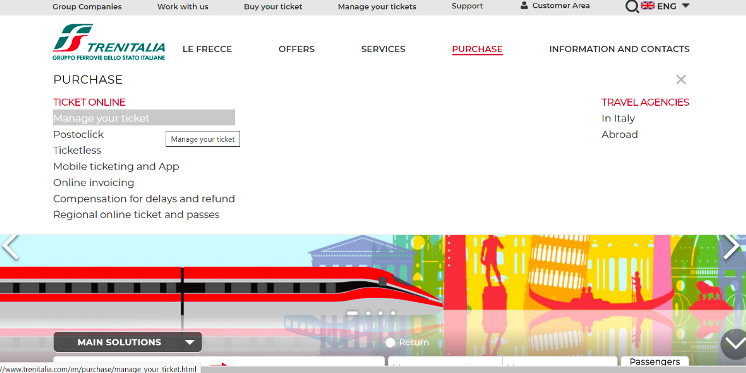 If you're in a rush, purchased your tickets through a third party (such as Trainline App or ItaloRail), or have a physical ticket, you will need to go to any one of the physical ticket booths for Trenitalia in the train station.
Refunds, Cancellations, and Delays on Trenitalia
On high-speed express trains that are delayed, causing you to arrive between 30-59 minutes late to your destination, you are entitled to 25% credit essentially to use toward future purchases. If your train arrives more than 59 minutes late to your destination, you technically are entitled to a refund of 25%-50% of your ticket price.
If you purchased the ticket through the Trenitalia website directly, you have many more options when it comes to how to get your refund. If you've purchased a physical ticket, however, it gets a bit trickier, since really your only option is to go to a customer service desk at the train station – if I'm being honest though…sometimes the hassle of dealing with the customer service desks when everyone on the delayed train is ALSO trying to get partial refunds just isn't worth it.
But to each his own! I've filed for a 25% credit when my train arrived late to my destination out of curiosity and received a credit code in my email inbox within the month
For full information on how to file and request refunds and credits, click Compensation for delays – Trenitalia
Click here for the Trenitalia Refund form: CRM WebForm – Refund Request For (trenitalia.com)
Strikes within Trenitalia
Ahh yes – let's talk about strikes. Unfortunately, they happen, and it's common – especially during high season – that they happen often. The good news though is that they only happen with Trenitalia since it's the public, state-run train company operated by Italy. Since Italo is a privately owned and operated train company, strikes are highly, highly unlikely, if not non-existent.
The only thing you can do in a surprise strike situation is to be patient, stay calm, and be open to the fact that you will have to adjust your schedule. If there is a strike, they're usually resolved within the day.
Here's more information on strikes within Trenitalia: In case of a strike – Trenitalia
Pros of Trenitalia
Trenitalia is run by the state, meaning that they have more train fleets, both high-speed and regional, and more overall destinations than Italo. They offer more language translates on their website, which is great for a lot of tourists, and often have many deals or surprise sales on their website. I like the flexibility of being able to change my ticket if need be on a Base or Economy level ticket as well. They also offer many different rail pass options through their site, which is great if you're planning on traveling throughout Italy using the train system frequently
Cons of Trenitalia
I've found in general, the prices of Trenitalia can be slightly higher than Italo in some cases. The regional trains aren't the most beautiful, but then again who really cares when you've got a beautiful sight happening outside your window. You can only purchase up to 7 tickets at a time, so if you are buying tickets for a large group of travelers you may fare better using Italo.
In addition, because Trenitalia is a public, state-run company, strikes happen more than you'd think, so much so that they've included an entire section on their website about what to do in case of a strike. Luckily, however, they're usually resolved within the day, but that doesn't mean they aren't any less stressful.
When I use Trenitalia
If I'm looking to buy a ticket for travel on an express train between large cities, I'll typically price compare on both Trenitalia and Italo to see which one is cheaper and an overall better price. If I want to travel to any city that is smaller and more local, it's Trenitalia all the way because there's no other option 😉
---
Italo
---
Up until 2012, Trenitalia was the only player in the Italian Train Game – then Italo came along. Italo is the first (and obviously only), private train company operating within Italy and only offers high-speed express trains between the biggest Italian cities. Those cities are Turin, Milan, Venice, Padua, Bologna, Florence, Rome, Naples, and Salerno. They also offer travel to some smaller destinations in between, but those stops are mainly all in Northern Italy. Case in point: If you want to travel to any smaller destinations outside Northern Italy, Italo isn't an option.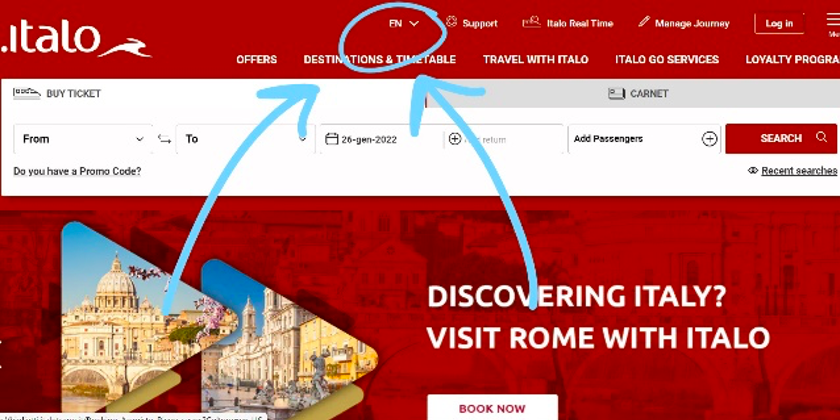 Navigating the Italo website
Opposite from Trenitalia, Italo recognizes the Italian cities when you search in both Italian AND English, which is helpful for those who may not know the spelling of their destination in Italian. Italo only offers two language translations of their website though, Italian and English.
You can change the language on the top header bar of the screen, where it says either "IT" (Italian) or "EN" (English):
Different Class Types on Italo
Italo offers 4 different types of ticket tiers: Smart, Prima, Club Executive and Salotto. Similar to Trenitalia, within those 4 tiers, 3 SUB tiers of tickets: Flex, Economy, and Low-Cost. Let's start by breaking down the different types of ticket tiers on Italo:
Club Executive

The top of the top, Club Executive gets you not only access to the Italo Club Lounge in the stations, but also Fast Track, which basically means you get to skip the queues and board the train first. There's dedicated catering to your seat of snacks and drinks, Wi-Fi, outlets, big, squishy chairs, and each seat has personal screens.

Prima

After Club Executive there's Prima, which gives you Fast Track, complimentary snacks and drinks, Wi-Fi and outlets.

Comfort

Comfort gives you more leg space than Smart, Wi-Fi, and outlets

Smart

The most basic level, smart gives you Wi-Fi and outlets with access to snack machines. However, they have the least amount of legroom than all the tiers which can get a little cramped when the trains are full.
Flex

The most flexible (see what they did with the name there) but also the most expensive, with a Flex ticket you can modify your ticket up to 3 minutes before departure for free, and if you need to cancel you receive 80% back. The nice thing about the Flex ticket is if you miss your train, you have up to 2 hours after your scheduled departure to change to the next possible train through their program called "EXTRA TEMPO".

Economy

Economy class is a good balance between flexibility and budget friendly. It typically only costs a couple euros more than the Low-Cost train ticket, but with Economy you can modify your ticket up to 3 minutes before departure for a fee of 20% your original ticket price plus any price differences, and if you need to cancel you receive a 60% refund.

Low-Cost

Low-cost is exactly that: low-cost. One of the cheapest options, it gives you some flexibility but not much. Refunds aren't an option, but you can modify your ticket up to 3 days before departure for a fee of 50% the price of your ticket and any additional price difference costs.  

eXtra

I was surprised that they managed to put a tier below low-cost, but here we are. The most basic of all the options, eXtra is the cheapest option (there's a pun in there somewhere), but as a result gives you the least amount of flexibility: no changes, no refunds.
Personally for me, if it's a short train ride less than two hours I'll purchase the "Smart" ticket Tier, but if it's a 3+ hour train ride I'll opt for the Comfort tier since like I mentioned, Smart can feel a bit too cramped. I base which sub-ticket tier I use off if I see myself possibly needing to change train times, but oftentimes that's not the case, so I'll just go with the cheapest option.
Train changes on Italo
As you can tell, Italo overall doesn't offer as much flexibility on ticket modifications that Trenitalia does. With mostly all the ticket types that Italo offers, you will have not only paid the price difference (if any) of the new ticket, you will also have to pay a percentage fee of the price of your original ticket. Those costs can add up QUICK. However, even so they still make it easy to change your ticket if you need to, right on the website.
To modify your ticket, head to the top of the main home page screen and click "Manage Journey"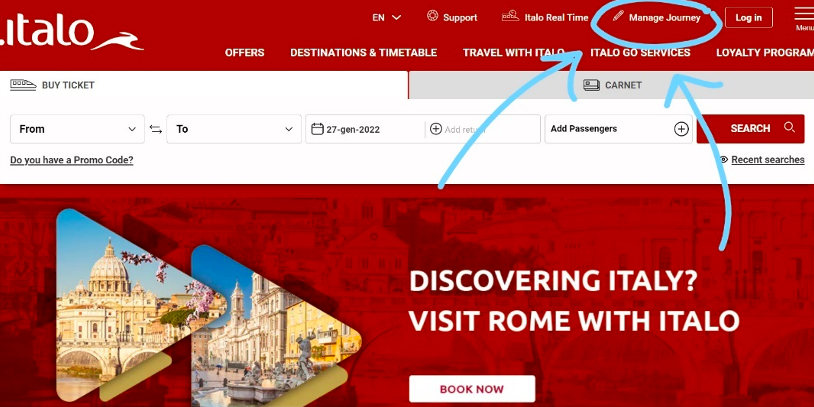 Refunds, Cancellations, and Delays on Italo
For trains delayed causing you to arrive between 60 and 119 minutes late to your destination, you're entitled to a 25% partial refund. For trains delayed over 120 minutes, you are entitled to a 50% partial refund. In any case, the best part about Italo's refund policy when it comes to train delays and cancellations if that there's no added work necessary on your part to get your refund – Italo will reach out to you first, between 7-30 days after your trip with your refund options.
One time my train arrival was delayed 60 minutes, and I didn't think anything of it until I received an email from Italo unexpectedly with a voucher code for my next trip. For partial refunds over 4 euro, they also give you the option to ask for monetization instead of a voucher, which is great if you're a tourist and don't plan to be in Italy for much longer.
More info on train delays and cancellations through Italo here: Find answers to the most frequently asked questions on Italo Treno
Pros of Italo
Overall, I find Italo offers cheaper prices than Trenitalia when purchased in advance. They also offer tons of discounts and random sales on their websites, which is worth looking into if you're planning on traveling often. Receiving a refund in case of a delay or cancellation is much easier with Italo as they credit you automatically with no added work to be done on your part. Italo also offers the ability to purchase up to 29 tickets at one time, so if you're buying tickets for a large group of people it's fantastic.  
Cons of Italo
Italo only operates high-speed trains, so naturally they have fewer overall destinations in Italy than Trenitalia. If you need to reach a smaller town within Italy, Italo most likely won't be an option. As I mentioned above, while its often less expensive, the basic seat ticket "Smart" on Italo trains are often very cramped, especially when the train is sold-out. Lastly, Trenitalia blows Italo's ticket modification and refund policies out of the water. You have a lot more overall flexibility on a Trenitalia ticket than an Italo ticket.
When I use Italo
Because Italo is solely an express, high-speed train, it's mostly only possible to use Italo when traveling to a bigger city within Italy. Like I mentioned above, Italo is usually cheaper than Trenitalia but because the cabins on lower-class tickets aren't the most comfortable, I'll usually consider Italo only for trains that are less than 2 or 3 hours long unless the Comfort ticket class is cheaper than Trenitalia.
To Summarize:
If you are only planning on visiting big cities in Italy, you can take either train company.
If you are planning on visiting smaller cities within Italy, you will probably need to take Trenitalia.
---
Where to Buy Tickets
---
There are a couple of different ways you can buy train tickets in Italy. Some have more advantages than others, but the overall thing I cannot stress enough is do not wait until arriving at the station to purchase tickets.
During peak season (and honestly, also off-peak season), it's not uncommon for trains to sell out. The last thing you want is to plan your trip around a train time and wait to buy your ticket until arriving at the station only to find that it's completely full – especially when you're say, planning to take a specific train to the airport to catch a flight. Not good.
My suggestion: purchase train tickets at LEAST one week prior to your departure. In my opinion, it's NOT necessary to book your train ticket more than a month in advance – it's highly unlikely the trains will sell out that far in advance, as they usually begin selling out the week of.
In addition, not only will buying tickets in advance be cheaper since they get more expensive closer to the departure date, it will also save you from any unnecessary stress of having to replan last minute due to a sold-out train.
There are a couple of ways that you can buy train tickets:
Purchase tickets up to 5-6 months before on the train company website:
At the station
As you've probably picked up so far, this is my least favorite option since purchasing at the station the day of will 100% be more expensive and the likelihood of the train being sold out is higher. If you're planning on traveling regionally on Trenitalia to a smaller city such as Pisa or Lucca, you could purchase tickets the day-of and probably be ok, but honestly, why risk it?
Through 3rd Party Websites
While I think in general its more advantageous to purchase tickets directly through the train's website in case of refunds, delays, cancellations or strikes, there are also several 3rd party companies that have their advantages of booking through as well. My favorites are ItaliaRail and Trainline
ItaliaRail is likely the biggest 3rd party seller of train tickets both in and out of Italy, since they partner directly with Trenitalia (note – they do not sell Italo tickets).
The biggest advantage with ItaliaRail in my eyes is the customer service they offer, especially when it comes to group travel. They operate entirely in English and the entire site is very easy to navigate, so if you don't speak Italian, it's very user-friendly in that sense. Through ItaliaRail you can purchase group tickets for up to 20 people on your own, or you can have an ItaliaRail employee book for you for groups over 10 and receive a discount on top of it. ItaliaRail also sometimes offers discounts or even free ticket class upgrades on certain trips.
The only thing to note about ItaliaRail is that there is a $5 service fee that is applied to each purchase, so its better to sit down and purchase all your tickets at once instead of at separate times.
I only recently came onto this company, but it's a great way to book train tickets not only in Italy, but all around Europe.
Trainline offers travel across 45 different European countries, and within Italy specifically shows you tickets for both Trenitalia AND Italo. Their site is very easy to use and recognizes both the Italian and English names of cities and stations.
The big advantage of Trainline is that they have an incredibly easy to use App that you can book your tickets on. It's quick, reliable, and all your ticket information is stored in the App, so you'll never have to scramble and sort through hundreds of emails to find your ticket information.
Be cautious about waiting until the last second to book your ticket however: about 5 minutes before departure the train will not be available to book on the app.
Amazing! You've picked your train, got your ticket and now you're ready to go. What else do you need to know?
---
How to find your train platform on that big, confusing board
Is it just me, or are the big boards in train stations listing all the upcoming trains v overwhelming? I remember the first time I had to take a train in Italy, I spent easily 15 minutes trying to figure out the connection between the board and my ticket and googling for information before finally asking someone for help. Don't fret – they aren't that confusing once you know what you're looking for.
The number one thing: when looking for your train platform, do not look at the "Destinations" – the destination column indicates the last stop on that train, so even if you see your destination listed, it may not be YOUR train, and you could end up spending a lot longer on the train then you planned to. To find your train, take a look at your ticket for a series of numbers: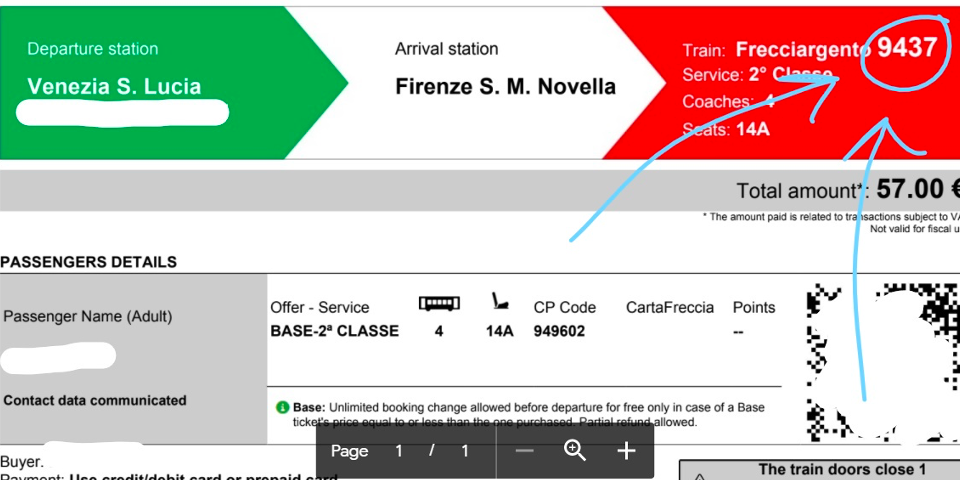 And then match those numbers with the numbers on the board.
That's your train!
Platform numbers typically are posted on the board within 10 minutes of the train departure, and sometimes not even until 5 minutes before (I had this experience more times than I'd like). Just keep an eye on it and be ready to go when it appears.
Platform Entry and checkpoints
Something to note that confuses everyone the first time they pass through an entryway to get onto the train platform is that certain entryway points are designated for only high-speed trains or only regional trains.
They typically will have floor signs right by the scanner or line to enter through the checkpoint that indicate whether that is an entry point for high-speed trains or regional trains, so be sure to look for them.
Sit In Your Assigned Seat!
Omg – if I can say this and it will save one tourist from making the same mistake that I (and many many others) did, I will be happy:
If you are traveling on an EXPRESS, HIGH-SPEED train between large cities, you will have an assigned seat.
The coach indicates the car number, while the seat number indicates which row and seat you are assigned to. So in the above example, the assigned seat is coach 4, row 14, seat A.
Your train will have the coach number printed on the side near the door, but you can also find the correct coach by simply looking up at digital signs along the platform.
You must sit in your assigned seat. If you don't, you might find yourself getting yelled at in Italian by the train attendant, which definitely isn't fun 😉
Validate Your Ticket BEFORE You Board
Another common mistake I see tourists making (again, including myself) is not validating their tickets before boarding. SO – If you have a physical ticket that was purchased at the station and are traveling on a LOCAL, REGIONAL train, you need to validate your ticket BEFORE you board the train at validation stations located in and around the platform. They are typically green & white and will have the Trenitalia logo (since Trenitalia is the only company that you can travel regionally with).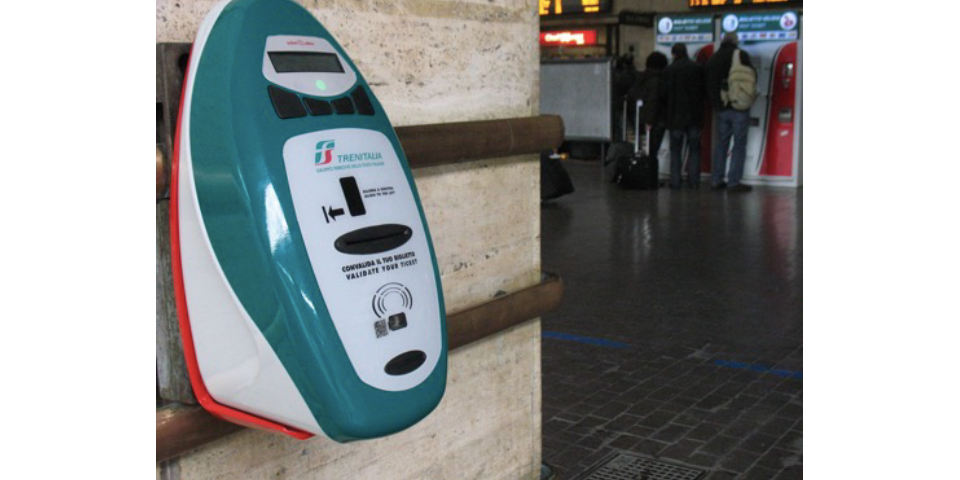 If you do not validate your ticket before you board the train, you will be fined! I find that train conductors are not very forgiving when it comes to validating tickets, no matter if you were aware of it or not, and I've seen many a tourist be presented with a hefty fine ($200 at least) for not validating the ticket pre-boarding. Make sure to validate your ticket!!
Again, this is ONLY if you have a physical ticket and are traveling on a REGIONAL train.
If you are traveling on a high-speed train, you do not need to do this.
If you have an electronic ticket of any kind, you do not need to do this.
Only physical tickets do you need to do this. Got it? Good 😊
---
What I Do
---
I could give you all the info in the world and tell you everything there is to know about trains in Italy, but sometimes it's just simply more helpful to hear what someone else does normally to buy their ticket.
If I'm planning to travel on an express, high-speed train between big cities, I will comparison shop when I'm ready to buy a ticket between Italo, Trenitalia, or the Trainline App (since I really enjoy having all my ticket information in one place on my phone). Typically I choose which company to travel with depending on who has the lowest price and how long I plan to be on the train for – overall, I personally never splurge on upgraded tickets because I don't always think it's necessary. I always book at least a week before, not only because the express trains sell out quicker, but also because they become more expensive starting the week of departure.
For regional trains, I obviously use Trenitalia since they are the only ones that offer regional trains, however I often use the Trainline App since, again, I personally like having all my ticket information in one place on my phone.
At the end of the day though, use whatever company works best for you and your situation. They aren't that confusing once you understand them, and traveling by train while passing by some of the most beautiful scenery you've ever laid eyes on is truly a wonderful experience.